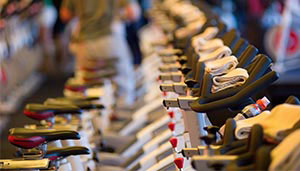 You can ride on a team or you can go Extreme. Whichever you choose, ask friends, family, and colleagues to join too. You're riding for an important cause!
Start a Team
Every team needs a strong captain to lead the charge. Simply pick a location and shift, register your team, and then recruit friends, family, and colleagues to join you. Each bike has a minimum fundraising requirement of $1,000, and a minimum of four and maximum of eight riders. Team members will register individually by using the team password provided to them by the team captain, who is also responsible for assigning specific event day ride times.
Join a Team
To join a team, you have to be invited by a captain. If someone you know has started a Cycle for Survival team, ask him or her for the team password so you can register. If you don't have a team to join, contact us.
Go Extreme
Rather than ride with a team, you can have your own bike for four hours! The minimum fundraising requirement for Extreme riders is $4,000.