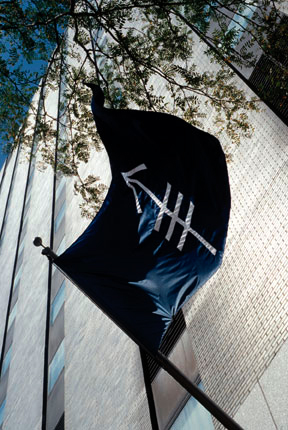 The Campaign for Memorial Sloan Kettering continues to show compelling evidence of ongoing success, as the Boards of Overseers and Managers have authorized a five-year extension of the historic fundraising effort and have raised its overall goal to $3.5 billion. The Campaign had surpassed its previous goal more than two years ahead of schedule, and, as of December 31, 2011, gifts and pledges totaled $2,518,507,078. Gifts to the Campaign provide resources crucial to every front in the fight against cancer, from groundbreaking research to first-rate education to the design of innovative and effective new therapies.
Advanced Research
Basic scientific discoveries pave the way to the development of new tools and techniques in the fight against cancer. In bringing together a first-rate research program and large patient population, Memorial Sloan Kettering is superbly positioned to put the latest breakthroughs directly to work for patients. One of the Center's top priorities is the recruitment of skilled scientists in areas identified as key to future progress—part of an expansion of its research enterprise made possible by the opening of the 23-story Mortimer B. Zuckerman Research Center. To achieve its ambitious goals, Memorial Sloan Kettering seeks gifts to be used to endow senior and junior chairs and to underwrite the most promising research.
Graduate and Postgraduate Education
A commitment to training outstanding scientists and physicians forms an integral part of Memorial Sloan Kettering's mission. Gifts to the Campaign support educational activities at every level, including graduate fellowships for Ph.D. students enrolled in the Louis V. Gerstner, Jr. Graduate School for Biomedical Sciences and postgraduate fellowships and training grants for scientists and physicians pursuing advanced research in a wide array of fields.
Outstanding Patient Care
Since its founding in 1884 as the nation's first hospital devoted exclusively to cancer, Memorial Sloan Kettering has been a leader in providing up-to-date, compassionate patient care. One of the most visible signs of its commitment to offering today's most promising therapies is the construction of technologically sophisticated treatment facilities, including the Claire Tow Pediatric Pavilion, the UBS Urgent Care Center, the state-of-the-art Surgical Center built with support from The Starr Foundation, the pioneering Center for Image-Guided Intervention (CIGI), The Evelyn H. Lauder Breast Center, and the Josie Robertson Surgery Center, scheduled to be completed in 2015. The Center also remains as committed as ever to the recruitment of gifted physicians and clinical researchers and the launch of promising new clinical initiatives in a range of areas.