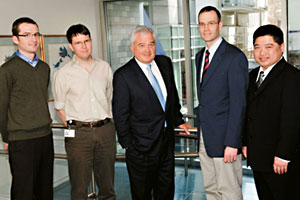 Louis Gerstner and the inaugural recipients of the Louis V. Gerstner, Jr. Young Investigators awards. From left: Iestyn Whitehouse, Hans-Guido Wendel, Mr. Gerstner, Stephen Long, and Timothy Chan.
In a timely gesture of support to future scientific leaders, Louis V. Gerstner, Jr. pledged $5 million through the Gerstner Family Foundation to underwrite research by junior investigators at a critical early stage in their careers. The gift to create the Louis V. Gerstner, Jr. Young Investigators Fund aids exceptional men and women who have already demonstrated their commitment to cancer research, helping them to establish their credentials as highly productive researchers.
It targets support to outstanding young scientists at Memorial Sloan Kettering whose work has the potential to generate meaningful progress. Resources will go to underwrite both basic and translational research, with investigators being eligible to receive three years of support.
Reflecting the breadth of this initiative, the first recipients of the awards represent a cross-section of the Center's research programs. They are: Timothy Chan (Human Oncology and Pathogenesis Program and the Department of Radiation Oncology); Stephen Long (Structural Biology); Hans-Guido Wendel (Cancer Biology and Genetics); and Iestyn Whitehouse (Molecular Biology).
"As one of the Center's most insightful leaders, Lou Gerstner knows first-hand the challenges that scientists face in securing government-funded grants, especially the first grant that is key to launching a successful career," said MSKCC President Harold Varmus. "We are grateful to Lou for confronting this challenge head-on, and we are inspired by his commitment to encouraging a new generation of scientists."
With its emphasis on preparing talented men and women to pursue innovative research, the Fund extends Mr. Gerstner's longstanding concern with education and training at every level. Recent high-profile initiatives include his work as founder and chairman of The Teaching Commission, which advocated raising student performance by transforming the way America's public school teachers are recruited and retained.
At Memorial Sloan Kettering, his landmark gift toward the creation of the Louis V. Gerstner, Jr. Graduate School of Biomedical Sciences helped the Center achieve its aim of becoming a degree-granting institution. Now in its third year, the Gerstner Graduate School offers a distinctive Ph.D. program that makes the most of the Center's strong clinical orientation.
Mr. Gerstner is Vice Chairman of Memorial Sloan Kettering's Boards of Overseers and Managers, Chairman of the Board of Managers at SKI, and Chairman of the Board of the Gerstner Graduate School. He is widely known for his accomplishments at the helm of such global firms as IBM Corporation, RJR Nabisco, and The Carlyle Group.