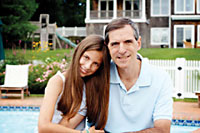 Craig Wasserman and his daughter, Ali, in 2009. While he was in treatment at MSKCC, Ali launched a Kids for Survival event to raise more than $530,000 to support the Brain Tumor Center.
The family of the late Craig M. Wasserman have created a fellowship in neuro-oncology to provide support in perpetuity for a young investigator in Memorial Sloan Kettering's Brain Tumor Center.
A pledge of $500,000 from Marla Wasserman, Craig's wife, and Sandra Wasserman, his mother, builds on more than $530,000 raised in 2010 by Craig's twelve-year-old daughter, Ali, who took inspiration from MSKCC's Cycle for Survival to create the first Kids for Survival fundraiser as her Bat Mitzvah project.
"We are so grateful for the wonderful care Craig received at Memorial Sloan Kettering," says Marla, "and so convinced that the Brain Tumor Center will pave the way for key breakthroughs in research and treatment, we consider it a privilege to provide this support to honor Craig's memory."
The Brain Tumor Center brings together investigators from across the institution to collaborate on studies into the molecular and cellular properties that drive tumor development and growth. With its emphasis on carrying discoveries from the basic and translational research laboratory all the way to clinical trials, the Center offers hope for meaningful progress against one of the most challenging forms of cancer.