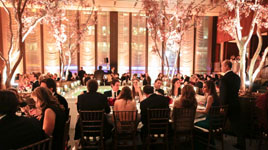 The Associates Committee
hosts a glamorous annual
celebration that raises
critical funds for the
Center's Department of
Pediatrics.
Associates Fall Party
Each year, the Associates Committee of The Society of MSK hosts a festive, glamorous dinner-dance. More than 350 guests enjoy cocktails, dinner, and dancing at one of New York's top venues.

Proceeds from this event have supported the renowned Department of Pediatrics at MSK, recognized worldwide for their treatment of children with cancer.

The 2013 Associates Fall Party will take place on Wednesday, November 13th at the Four Seasons Restaurant. The event is being sponsored by Carolina Herrera and the Co-Chairmen are Hayley Bloomingdale, Joanna Baker de Neufville, Emilia Fanjul Pfeifler, and Cynthia Smith with Honorary Chairman Patricia Herrera Lansing.

For more information or to purchase tickets, please call The Society Office at 212.639.7972 .