Coaches
Jeff Rochford, Head Coach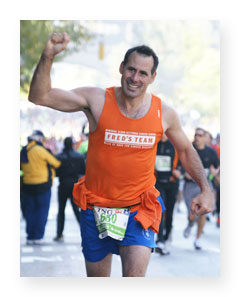 The Fred's Team training program is led by Jeff Rochford, United States Track and Field-certified coach and Fred's Team member.

Jeff's introduction to fitness began in high school, where he met Arthur Jones, creator of the revolutionary Nautilus exercise machines. Mr. Jones used Jeff's high school as a testing ground for his machines, and Jeff was a participant in that study. "I learned more about the human body in relation to exercise from Arthur than any class I have taken or book I have read since," he explains.

In the early 1980's Jeff moved to Central Florida and worked as personal trainer under the direction of Dr. Richard Miller at one of the nation's first personal training gyms. In 1990 he opened Jeff's Gym, a personal training gym in Greenwich Village. In 1997, Jeff became a United States Track and Field-certified coach.

Jeff's involvement with Fred's Team is his proudest achievement. He has run with the team in 14 New York City Marathons and the Antarctica marathon. In 2004, he volunteered to develop a coaching program for Fred's Team. His program consists of a training schedule, training and nutrition tips published in a weekly team newsletter, and training runs with the team in the NYC metropolitan area. Jeff's expert guidance has helped thousands of Fred's Team runners cross the finish line of the New York City, Chicago, and Boston marathons and raise millions of dollars for Memorial Sloan Kettering Cancer Center.

Jeff has contributed articles to the following magazines: Fitness, Shape, Men's Fitness, and Self. He holds the distinction of creating the most successful Self Challenge for Self magazine to date. After over 30 years in the industry, he is still passionate about health and wellness. Jeff continues his role as a personal trainer and helps develop corporate wellness programs, using his knowledge of the body's energy system and metabolism to help non-athletes maintain a healthy weight or lose weight and lead a healthier lifestyle.



Ann Karine, Coach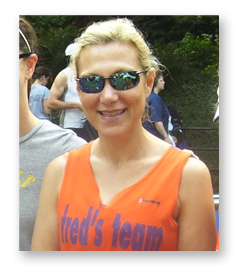 Ann Karine is a United States Track and Field-certified running coach and a National Association of Sports Medicine personal fitness trainer.

Ann studied dance for many years before becoming a fitness and endurance sports enthusiast. She spent four months cycling throughout Vietnam and Cambodia and later participated in the Boston-New York AIDS ride and the California AIDS ride.

Ann ran her first marathon in 1996, and a passion was born. She's run marathons all over the world, including the first marathon of the millennium in New Zealand for Fred's Team. She worked as an elite Advantage trainer at the Sports Club LA on New York City's Upper East Side. She loves helping people not only reach their goal — but go well beyond them.

Currently, Ann writes an online column on fitness and endurance sports for examiner.com. She has written fitness articles for Newsweek, Self and Tendu, and has been interviewed for Health, Real Simple, and Good Housekeeping. Ann writes the column Girl's Corner for the Fred's Team e-newsletter. She emceed the First Tendu Fitness Festival and is also a published and produced playwright.

A coach for Fred's Team since 2006, Ann said, "It's an amazing experience. Nothing is more rewarding than helping people accomplish their goals. Fred's Team is a great group of people coming together for an incredible cause."