Dr. John Ling Mark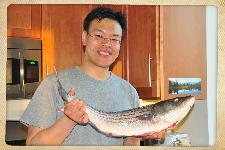 Fundraising Goal: $8,888.00
Total Number of Gifts: 69
Total Value of Gifts: $9,588.00
Please bookmark this page.
Recent Donors
Amy Ling Lin
Stephanie Lee
Angela and Ray Sheen
Kate zhong
John Hui
Sam and Margaret Holland
KC
Laura Kozuh & Damon Cassisi
Dr. John Ling Mark
John Lau

Full Donor List
X
New Giving Pages
We're excited to announce the launch of our new Giving Page platform! In the fall of 2015, current and new users will gain access to a suite of upgraded features. We look forward to providing an enhanced Giving Page experience for all.
Dr. John Ling Mark
Fundraising Progress
Dr. John Ling Mark

Goal:

$8,888.00

Achieved:

$9,588.00
This page is dedicated to the loving memory of Dr. John Ling Mark. He was a great husband, father, son, brother, doctor, and friend to all those who were lucky enough to have known him in life.

He was a big kid at heart and those who knew him well, will never forget all his favorite things... Ultraman, Fishing, Cooking, Comic Books, Japanese Anime, 50s/60s music, Transformers, Growing tomatoes, and last but not least... GODZILLA. But most of all, his ultimate purpose in life was being there for his family.

John made friends easily at every school he attended, including Hudson Guild Nursery School, P.S. 11, I.S. 70, Brooklyn Tech High School, Cornell University, and SUNY Downstate Medical Center.

John served his residency at NYU Downtown Hospital and then began proudly serving the Chinatown community as a thoughtful and caring doctor with his own practice.

He fought hard to be there for his children and his family as long as he could, but in the end, he lost the fight to cancer. He leaves behind his wife Joyce and their two children Sophia and Ryan.

To honor his memory, you may make a donation here to continue the fight against cancer.
---
If you think this page contains objectionable content, please inform the system administrator.