Chickie Rosenberg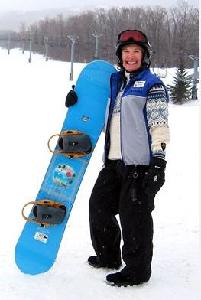 Total Number of Gifts: 10
Total Value of Gifts: $16,681.00
Please bookmark this page.
Recent Donors
Anonymous
In Memory of Bernhardt Crystal
Brett Harris
Michelle R Nocera
Laureen Carrara
KC Maloney
The Francus Family
Arnold and Judy Weinstein
Paul Rosenberg
Maxine Rosenberg

Full Donor List
The Chickie Rosenberg Memorial Fund
Thank you for your support of the Chickie Rosenberg Memorial Fund. We are grateful for all those who have donated in her memory, and ask that you join the Rosenberg family in their continued support for Memorial Sloan-Kettering.
What Your Donation Supports
Your donation to the Chickie Rosenberg Memorial Fund will be used to support expanding research in clinical trials under the direction of Chickie's physician, Dr. Paul Sabbatini, Deputy Physician-in-Chief for Clinical Research.

Dr. Sabbatini and his colleagues are focusing on streamlining MSK's clinical research program, which will allow an increased number of patients to participate in more trials, and also bring novel compounds and therapies to those who can benefit from them in a timely manner. At Memorial Sloan-Kettering, patients and researchers are typically involved in more than 900 total clinical trials at any given time.

The standard approaches for developing most cancer treatments have been built on a rigid sequence of clinical trials. Historically these studies advanced the field slowly over time with incremental improvements. Each step reset the benchmark to which subsequent treatments were compared. This approach served us for many years as standard chemotherapy agents with broad applicability across many patients and diseases were being developed. Clinical trials remain the best way to improve cancer treatments, but what we need to rethink and avoid is the large clinical trial with long follow-up looking for very small improvements.

The development of the "basket" trial is one example. Instead of starting with multiple clinical trials in different diseases (which requires duplication of regulatory and infrastructure efforts), we start with one trial — the basket — and one or more targets, and allow patients with multiple diseases to enroll in cohorts or groups.

How to Donate
Please click on the link to make a gift online.

You may also make a gift of securities or send a check to:
MSK - Office of Development
Attn: Amanda Gilstein
633 Third Avenue, 28th Floor
New York, NY 10017

Please call 646-227-3709 with any questions.

Thank you for your support.
---
If you think this page contains objectionable content, please