REV UP FOR A CURE!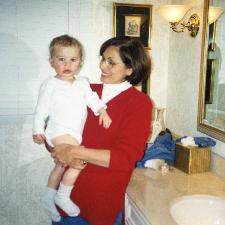 Fundraising Goal: $10,000.00
Total Number of Gifts: 39
Total Value of Gifts: $7,181.00
Please bookmark this page.
Recent Donors
Faith and Scott Gorman
Anonymous
Anonymous
Anonymous
Offline Gift
Anthony Israel (smurfzilla_gtr)
Joseph DeMartino
Justin
Susan and Barry Orenstein
Kristen Cohen

Full Donor List
I was only seven when my beautiful grandmother, Patricia Cohen, passed away from breast cancer almost 10 years ago. My beloved Mimi had just turned 63. I still vividly remember her warm hugs and that dazzling smile that lit up every room she entered. Mimi used to read to my brothers and me, build silly snowmen with us and play in the sand with us at the beach. She was the best, and I miss her every day.

After her initial diagnosis, Mimi learned that she carried the gene that gave her a high risk of breast cancer. Testing showed that my mom and my aunt both had the gene as well. Grateful to be armed with that knowledge, they have thankfully been able to take aggressive precautions, and in my aunt's case, benefit from early detection.

For a while, I have wanted to honor my Mimi's memory in a meaningful way and also help fund research to eradicate hereditary breast cancer. Now 17 and a high school sophomore, I'm an avid automobile photographer, with a sizeable following on Instagram (@fastlane.photography), and recognition from duPont Registry as a Top 10 automotive photographer. I decided to reach out to some of the supercar owners I know and organize a private photo shoot event to benefit hereditary breast cancer research at Memorial Sloan Kettering Cancer Center. Through the invitation-only event, the owners will get fantastic shots of their exotic cars, I will have the honor and pleasure of taking photos of these stunning automobiles, and together we will raise money for important research.

I'm asking car owners who are attending the event to kindly make a minimum donation of $200 to MSK. All others who are inspired to donate, I am deeply appreciative of any amount your generosity allows.

Most gracious thanks for your support. Let's REV UP FOR A CURE!
---
If you think this page contains objectionable content, please