Welcome to My Fundraising Page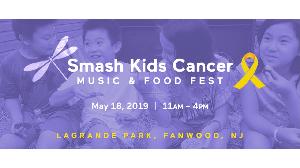 My name is Elizabeth Chin and I am a sophomore in UCVTS Magnet High School. In honor of my brother Connor and to celebrate him, I am leading a fundraiser to raise money to benefit Pediatric Cancer Research at Memorial Sloan Kettering. Connor was diagnosed with bone cancer two and half years ago. He was 11 years old. He was treated at Memorial Sloan Kettering, but the cancer came back after 18 months. Instead of conventional chemotherapy the second time around, Connor was very fortunate to have participated in a clinical trial immunotherapy which he completed last July. This drug was developed by scientists in Memorial Sloan Kettering. Although the journey was rough, we are grateful to MSK for saving my brother's life. Connor is doing great now and enjoying life as an 8th grader.
Pediatric cancer research is extremely underfunded in this country. Only 4% of the National Cancer Institute's research budget is dedicated to pediatric cancers, which is why donations are critical to making progress possible.
I hope you will join me in this important cause. I would love for you to join my team or make a donation, and help me achieve my fundraising goal. The money raised will give the doctors and researchers at MSK Pediatrics the ability to discover new and better treatment options for children around the world.
Additionally, some of my friends and I are organizing a Music and Food Festival on May 18, 2019 at La Grande Park, Fanwood, NJ, from 11:00 AM to 4:00 PM. Please come out to support this event; all proceeds will benefit MSK pediatrics cancer research.
Please help me spread the word and share my fundraising page with your family and friends.
Thank you for your support!
Best regards,
Elizabeth
View More
Fundraising Honor Roll
Jam Kancer In The Kan Foundation
God Bless Connor and the Chin Family! ME