Join me in supporting FRED'S TEAM - IMAGINE A WORLD WITHOUT CANCER
Name: Wendy Schaffer
Event: TCS New York City Marathon
Date: November 5, 2017
Donate
When I was a medical resident at MSK, my father was diagnosed with first one cancer, and then a second. The doctors at MSK took care of him (and of me). They performed his biopsies, counseled me and my family, and found him a wonderful oncologist in his home state who had trained at MSK. And then they gave me the courage and wisdom to support him through the next two years. Now those doctors are my colleagues; their patients are my patients. I had never run a marathon but I joined Fred's Team and ran the 2015 NYC Marathon for my dad, for my colleagues who dedicate their lives to this fight against cancer, for our families who support our efforts even as they miss our company, and for our shared patients who inspire me daily.
And now... I'm doing it again. I'm running the 2017 NYC Marathon for Fred's Team! I'm running for all of us, so we and our families and our friends can IMAGINE A WORLD WITHOUT CANCER. Please donate to Fred's Team and cheer me on or - better still- come run with me! Wendy
$12,400
Fundraising Total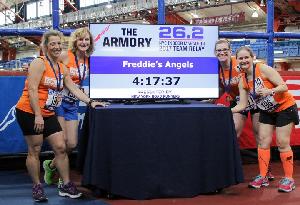 Fred's Team Coach Marcie Glotzer with Becky Lazzeri, Edie Silsdorf and me!