Kat Runs for Meg - The Story of Two Best Friends Treated at MSKCC
Hi Everyone!!
This is my FIRST marathon. I turn 50 next January and it's been on my bucket list!
I am also a cancer survivor and a huge supporter and advocate of MSKCC, where I was treated for stage 4 lymphoma in the year 2000. So another milestone is my upcoming 20-year mark!
And lastly and most importantly, I am running for Team Meg (a team within Fred's Team). My late best friend Meg who passed away in 2009. She was also treated at MSKCC. Next year it will be 10 years since her passing, I run for her, I run with her, I run because of her. A TRIFECTA of milestones...
On my instagram @katsosnick, you can read more about my journey of survivorship & friendship as it pertains to this marathon. I post once a week.
So that's my background. And oh! I am also not an athlete but have been building up to be a runner for the past 2 years. Marathon training has been an intense physical and mental journey for me, a truly transformative experience. Thank you to Wes Owen and Bo Ward for naming me Team Captain this year. While I dont think I can live up to that title with my athletic performance, I do plan to cross the finish line in November!
By donating to my race, another great stride towards progress is made--and it brings us one step closer to a world without cancer. Please use this link to donate.
Follow me on Instagram @katsosnick and search #KatRunsForMeg to learn more about my journey as a survivor & the critical survivorship funding the dollars raised for this race bring to the "Meg Berte Survivorship Fund" at MSKCC.
THANK YOU!
With much love and endurance,
Kat
PS - check out the short clip we just released! You can access it on the Team Meg page on the Fred's Team website or go to the link in my bio on Instagram @katsosnick
$100,000
Fundraising Goal
$85,058
Fundraising Total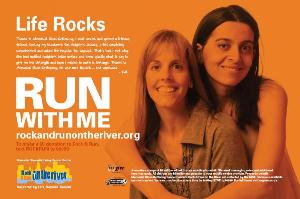 With Meg in 2009