Peter Shearer
Event: Virgin Money London Marathon
Date: April 26, 2020
Fred's Team Participant for: 2 Years
Donate
IMAGINE A WORLD (and me!) WITHOUT CANCER
In spring 2016 I was diagnosed with Follicular Lymphoma. This is an indolent blood cancer that currently requires monitoring, but will need chemotherapy in the future. At the time I was told it was likely that would happen in a couple of years. 6 months later I ran the 2016 NYC Marathon and raised $23,000 for Fred's Team. It blew me away that the people in my life - even people I haven't seen since high school! - would show such love and care. My lymphoma has remained quiescent now for 4 years surprising my Sloan Kettering hematologist but I believe it is related to my running and the support I received.
I have now signed on to run the London Marathon on April 26th. Yes, that is only 2 months away. (The picture on this page is from 2016 just before the NYC run when I was at a conference in London and did my long run.) I'm up to doing 1.5 hour long runs and though my pace is slower than 2016 I'm feeling great. I have committee to raising $10,000 and I have already secured my first $1000 donation!
When it comes time for me to recieve chemo at Memorial Sloan Kettering I want to wear my official Fred's Team shirt into Sloan Kettering and tell the staff and other patinets how much money I've raised to support their reserach and services. Please consider donating to my cause.
100% OF YOUR DONATION SUPPORTS RESEARCH
Every dollar you donate gives doctors and researchers the resources they need to make life-changing discoveries and better outcomes possible—bringing real hope to cancer patients and their families. More FDA-approved drugs for cancer treatments have been developed by MSK than any other academic institution in the world. As leaders in cancer care, MSK treats over 400 types of cancer each year.
DONATE TODAY!
Your support is key to helping experts at MSK discover new and improved treatment options. Together, we can make a big difference in the lives of people with cancer.
Thank you!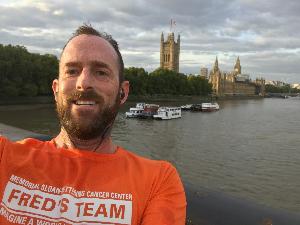 Donors
Martin & Ann Gallagher
$250
Niclas Nagler and Alberto Alvarez
$200
Michael Huey & Christian Witt-Doerring
$100
Pia, Andrew and Henry
$100
Ellen Marqusee and Barry Tils
$100
Dick and Lesley Shearer
$60
The Fred's Team Web page and e-mail are provided as a courtesy to participants to help them manage fundraising efforts for this event. Memorial Sloan Kettering Cancer Center or any of its affiliated organizations, or their officers, directors, agents, or employees do not control, nor are they responsible for, the contents of this Web page. Any views or information provided on this Web page are the sole responsibility of the participant.

The participant's Web page may provide links to other Web sites and does not imply an endorsement by MSKCC, its affiliated organizations, their officers, directors, agents, and employees of the materials contained at those Web sites.
If you think this page contains objectionable content, please