Welcome to My Fred's Team Page
Name: Laura McDonald
Event: Ironman Florida
Date: 11/04/2018

Donate
I'M BACK AT THIS WHOLE "IRONMAN" THING AGAIN...
Well, here we go again! After a glorious year off from training for a full Ironman, I'm back in the groove gearing up for Ironman Florida on November 4th in Panama City Beach, Florida. In the meantime though, I thought I would pack my schedule with 6 other races, the most triathlons I have ever done in a single year:
-Bermuda ITU Olympic Distance Triathlon on Saturday, April 28th;
-Wildflower half Ironman distance triathlon on Saturday, May 4th;
-Escape from Alcatraz Triathlon on Sunday, June 3rd;
-Calgary Half Ironman on Sunday July 29th;
-USA Triathlon Olympic Distance Age Group National Championships in Cleveland on Saturday, August 11th; and
-ITU Olympic Distance Age Group World Championships in Gold Coast, Australia on Sunday, September 16th.
PHEW that's a lot of racing (and TRAINING), but also a lot of fun traveling (with support from the best family and friends around) and a great opportunity to raise some very valuable funds for cancer research.
You know MY story of losing my mother and best friend to lung cancer and you all have your OWN stories of how cancer has darkened your lives or those of the ones you love. So please consider a donation to the world renowned Memorial Sloan Kettering Cancer Center (MSK) in New York so they can continue their groundbreaking research and saving many lives along the way as they strive to rid the world of cancer.
I CAN IMAGINE A WORLD WITHOUT CANCER
I'm running and raising money with Fred's Team to support critical cancer research at Memorial Sloan Kettering Cancer Center (MSK). I'm committed to making a difference in the lives of countless people touched by cancer.
SUPPORT LIFESAVING RESEARCH
By donating to my race, you can help give doctors and researchers at MSK the funding they need to make groundbreaking discoveries and conduct lifesaving clinical trials. Every dollar raised is another great stride towards progress—and brings us one step closer to a world without cancer.
THANK YOU!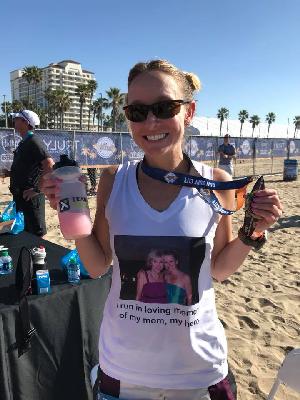 After a Personal Record at the Surf City Marathon February, 2018