Mary Augustine-Morris
Event: United Airlines NYC Half
Date: March 15, 2020
Fred's Team Participant for: 7 Years
Donate
IMAGINE A WORLD WITHOUT CANCER
Please help me make an impact in the fight against cancer.

I am once again joining the fight by running the United Airlines NYC Half with Fred's Team! My goal is to raise as much money as I can for lifesaving cancer research led by Memorial Sloan Kettering Cancer Center's (MSKCC) doctors and researchers. 2020 marks my seventh year running the NYC Half for Fred's Team and I feel so privileged to raise money for MSKCC.

Why I run
To honor my friends and family touched by cancer.
My father was diagnosed with cancer at the age of 45. As a 14-year old, I couldn't quite grasp the enormity of the words, "dad has cancer". I never imagined that his battle would be lost just two short years later. From the time he was diagnosed, he endured various surgeries and treatments. Once his cancer was deemed inoperable, my father sought experimental alternatives, which led him to MSKCC. His cancer proved too advanced for the treatments available at the time, but I will always remember his experience with MSKCC and the compassionate support he received from the skilled doctors and nurses while under their care.
Like many, cancer has affected my life in so many ways since my dad succumbed to the disease. My aunt, my sister-in-law, my mother, my dearest friend, myself. It remains my mission to raise money for valuable research to crush this disease.

Donate to Support Research
Please give a gift to my NYC Half race.

There are so many stories of heartache and sadness, but I've also experienced the joy and hope that come with success stories. I can't personally bring comfort to the millions of people who are affected by cancer. But I can run on their behalf and raise money for research. This is my way of making a difference.

The money I raise through Fred's Team supports groundbreaking studies and clinical trials that impact the cancer community worldwide. Your donation will help make important progress possible—giving hope to so many patients and their loved ones.
Support my race—and together, we can make an impact. I can imagine a world without cancer. Can you?
THANK YOU FOR YOUR SUPPORT!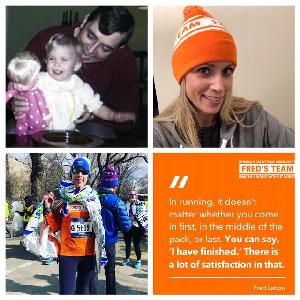 Donors
Ms. Mary Augustine-Morris
$200
Celeste & Evan Henry
$100
Jennifer Vanderhyden
$100
The Fred's Team Web page and e-mail are provided as a courtesy to participants to help them manage fundraising efforts for this event. Memorial Sloan Kettering Cancer Center or any of its affiliated organizations, or their officers, directors, agents, or employees do not control, nor are they responsible for, the contents of this Web page. Any views or information provided on this Web page are the sole responsibility of the participant.

The participant's Web page may provide links to other Web sites and does not imply an endorsement by MSKCC, its affiliated organizations, their officers, directors, agents, and employees of the materials contained at those Web sites.