Welcome to Shawn's Fred's Team Page
Name: Shawn Guertin
Event: TCS New York City Marathon
Date: November 5, 2017
Donate
A LIFE-CHANGING EXPERIENCE
In 2014 my life, my son's life and my family's life changed forever when my son Sam was diagnosed with brain cancer. As a result of Sam's courage and dedication, the incredible people and cutting-edge research work done at MSK, I am thrilled to say that Sam is not only living life, he is thriving and pursuing a career in Oncology Nursing. In 2016, we crossed the finish line together as father and son, both cancer survivors and forever thankful for the people at Fred's Team and MSK.
During the longest 5 hours of my life when Sam was in surgery, I made two promises to myself:
One, that I would do everything I could to re-pay, assist and promote what the incredible people at MSK do every single day. I remember thinking what if the cure for someone else's child is just sitting in a manila folder some where in the form of an unfunded trial or research program?
Two, that I would incorporate something into my life that would remind me on a regular basis of the incredible lessons I've learned along the way as a result. Fred's Team and marathon running became a way to address both at the same time.
I CAN IMAGINE A WORLD WITHOUT CANCER
I'd venture a guess that virtually every person reading this has been touched by this disease in some way. By raising the funds needed, you can help provide the doctors and researchers the freedom to do what they do best: fight cancer through innovation. This is my way of saying thank you, making a difference and never forgetting.
PLEASE CONSIDER A DONATION OF ANY SIZE
Your generous donation will make important progress in cancer research possible and improve the lives of countless patients and their families. Together, we continue to make great strides against this disease.
THANK YOU!
$75,509
Fundraising Total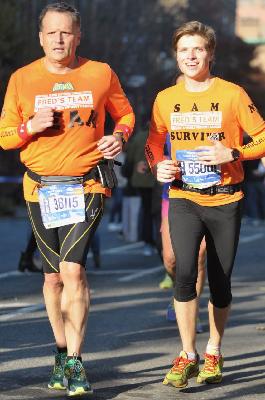 2016 NYC Marathon