Welcome to My Personal Page
Name: Matthew Nolan
Event: TCS New York City Marathon
Date: November 4, 2018
Donate
In 2018, I am once again joining the fight by running the 2018 TCS NYC Marathon with Fred's Team! I will be raising as much money as I can for lifesaving cancer research led by Memorial Sloan Kettering Cancer Center's (MSK) doctors and researchers.
This year, I am dedicating my race to my mother, Arlene Garcia Nolan, who battled stage 4 breast cancer for 14 years. It is because of Memorial Sloan Kettering that she was able to fight as long as she did. I can't thank Fred's Team enough for providing an outlet to honor her life as well as the many others affected by cancer. Any donation, big or small, is welcome.
I CAN IMAGINE A WORLD WITHOUT CANCER
Too many of us have been touched by this disease. By raising the funds needed, I give doctors and researchers the freedom to do what they do best: fight cancer through innovation. This is my way of making a difference.
SUPPORT LIFESAVING RESEARCH
Your donation will make important progress in cancer research possible and improve the lives of countless patients and their families. Together, we continue to make great strides against this disease.
THANK YOU!
$22,723
Fundraising Total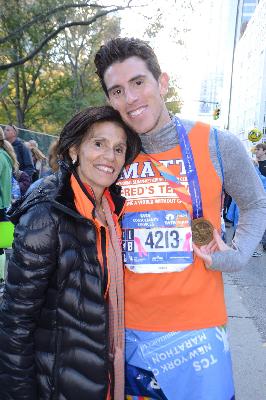 2015 TCS New York City Marathon