Welcome to My Fred's Team Page
Name: Rosita Chan-Vicelich
Event: Big Sur International Marathon
Date: 04/28/2019

Donate
After 16 weeks of intense training and clocking lots of running miles, I will be running the 2019 Big Sur International Marathon in Monterey, California on Sunday, April 28, 2019 and raising money with Fred's Team (my 4th marathon for Fred's Team) to support critical cancer research at Memorial Sloan Kettering Cancer Center (MSK). I'm committed to making a difference in the lives of countless people touched by cancer.
I am dedicating this marathon in memory of my late father-in-law, Alfio Vicelich, who we lost to colon cancer on November 26, 2018, my late sister-in-law, Winnie Chan, who we lost to lung cancer on January 4, 2017, my dear friend, Suzy, who is battling and will beat breast cancer, all those we have lost to cancer and family and friends who are battling cancer.
Your donation will be giving doctors and researchers at MSK the funding they need to make groundbreaking discoveries and conduct lifesaving clinical trials. Every dollar raised is another important stride toward progress — and brings us one step closer to a world without cancer.
When you make a donation (no donation is ever too small or too large), I will write the name of the person you would like to honor on my Fred's Team running shirt.
Thank you for your prayers and well wishes!
With much gratitude,
Rosita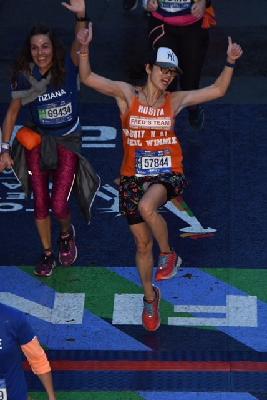 TCS NYC Marathon