I'm on a mission to raise $15,000
Name: Jessica Nelson
Event: TCS New York City Marathon
Date: November 5, 2017
Donate
In July of 2013, I began running and it truly has changed my life. I am healthy and strong, I have an amazing amount of confidence, and I've met such wonderful people. I've run 10 half marathons and 3 full marathons.
In 2016, many people around me were impacted by cancer. I often reflected on my runs how fortunate I was to be able to pursue a physical hobby such as running. I really wanted to help my coworkers, friends, and neighbors impacted by cancer - but I found that I didn't know how. I decided that in 2017, I would dedicate my running to fundraising for cancer research. I set an ambitious goal for myself so that it would require work for the entire year.
I'm running and raising money with Fred's Team to advance cancer research at Memorial Sloan Kettering Cancer Center (MSK). MSK is leading the way in cutting-edge treatments by using its expertise to discover new ways to fight cancer—worldwide. I chose Fred's Team because they treat many different types of cancer. Cancer takes all forms - how could I pick just one?
I CAN IMAGINE A WORLD WITHOUT CANCER
Too many of us have been touched by this disease. As I've started talking to others about my fundraising goal, they have shared their stories with me about how their lives have been impacted by cancer. I've found that opening the conversation has already impacted me more than I imagined. Cancer truly has touched so many lives.
By raising the funds needed, I give doctors and researchers the freedom to do what they do best: fight cancer through innovation. This is my way of making a difference.
You can follow my journey on my blog at http://www.jessrunsatl.com/
SUPPORT LIFESAVING RESEARCH
Your donation will make important progress in cancer research possible and improve the lives of countless patients and their families. Together, we continue to make great strides against this disease.
Because I like to make things fun, here are some suggested ways you can donate:
ONE TIME DONATION:
$100.00 - I will dedicate a mile of the race to a person of your choosing via a temporary tattoo on my arm and think of their story during that entire mile. You will also have the option to share their story on my blog to spread awareness.
For every donation of at least $100, I will also hand crochet a cap which will be donated to local cancer patients. I will include a tag with your name (or the name of your choosing in honor of/memorial of) and a note to the recipient.
$50.00 - If you donate this amount, I will write the name of your choosing on my race-day singlet for my marathon and dedicate my race in honor of/memory of someone important to you impacted by cancer.
$26.20 - 26.2 is the number of miles in the race, so this donation will represent a $1 commitment for every mile that I will run on race day.
THANK YOU!
$16,892
Fundraising Total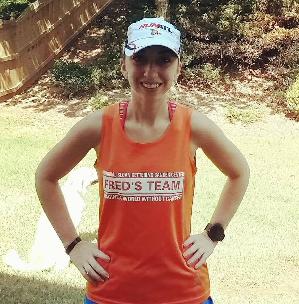 I run to honor and remember those who have been impacted by cancer.