Panagiota runs the Marathon!
Name: Panagiota Tampakis
Event: TCS New York City Marathon
Date: November 3, 2019
Donate
65 days before my wedding, my world was turned upside down when I was diagnosed with Triple Negative Ductal Carcinoma in my left breast. Eight months later, which included 12 rounds of chemo, surgery and 20 rounds of radiation, I'm thrilled to say I'm cancer free! But I didn't do it alone. My friends, family, incredible doctors and nurses all got me through it and I am so fortunate to have had such an amazing support system. I'm running the marathon this year, the year I turned 30, for Fred's Team. Fred's Team supports critical cancer research at Memorial Sloan Kettering Cancer Center (MSK), the incredible hospital where I have recieved all of my treatments and surgery. Every dollar raised is another important stride toward progress — and brings us one step closer to a world without cancer. Thank you in advance, you're all incredible humans.
xoxo Panagiota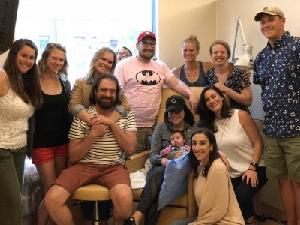 My last day of Chemo!