Anthony's Support MSK Cancer Research Page
Name: Anthony Ibrahim
Event: TCS New York City Marathon
Date: November 5, 2017
Donate
Family, and Friends,
2017 was supposed to be a year full of promise. I will be finishing my Pre-Medical Studies, and applying to Medical School, but life decided to throw me a curve ball. Right after Thanksgiving, my mother went for her annual mammography. Her results indicated some abnormalities, and additional tests were required. Soon after my worst fears were confirmed, and she was diagnosed with Stage 1 (In-Situ) Micro-Invasive Ductal Carcinoma. After the initial shock, we realized Memorial Sloan-Kettering would be the best place for her to undergo treatment. On February 9, 2017 amidst a wintry blizzard, my mom underwent surgery to remove this malignancy. On March 2, 2017, we were pleased to receive the news that she has been given a Clean Bill Of Health. Better yet, she will not require Chemotherapy, or Radiation. We could not have asked for a better result. I am eternally grateful to all the staff at Memorial Sloan-Kettering, first and foremost for their professionalism, and for the treatment they provided to my mom. That, and YOU, my amazing family and friends for your inquiries, and support in getting my family and I through one of the most difficult times in our lives. I'm running the 2017 TCS NYC Marathon and have pledged to raise $3,500.00 for Fred's Team to advance cancer research at Memorial Sloan-Kettering Cancer Center (MSK) in honor of my mother, and all those currently leading the fight against cancer. MSK is leading the way in cutting-edge treatments by using its expertise to discover new ways to fight cancer—worldwide. Please donate today, by going to the link below. I am also requesting that those of you who have had an unfortunate encounter with this disease, whether it personal, or through a loved one to please share this link in the hopes of bringing attention and awareness to my cause. This is a tax-deductible donation.
I CAN IMAGINE A WORLD WITHOUT CANCER
Too many of us have been touched by this disease. By raising the funds needed, we give doctors and researchers the freedom to do what they do best: fight cancer through innovation. This is my way of making a difference.
SUPPORT LIFESAVING RESEARCH
Your donation will make important progress in cancer research possible and improve the lives of countless patients and their families. Together, we continue to make great strides against this disease.
THANK YOU!
http://mskcc.convio.net/goto/AnthonyBIbrahim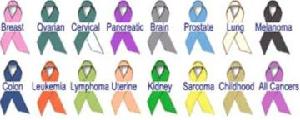 Cancer Doesn't Discriminate; Neither Do I!