Garth's Wildcat Ridge Romp 50K Anniversary Fundraiser
Name: Garth Atchley
Event: New Jersey Marathon
Date: 04/29/2018

Donate
Thursday June 14, 2018. OK. Last year I did a 50K trail race called the Wildcat Ridge Romp, organized by my good friends and race directors at New Jersey Trail Series. I finished the race, but it wasn't pretty and I was not feeling fresh as a daisy like I usually do when I was done. In hindsight it makes sense because, exactly one month later (on Sept 11, 2017) I got my cancer diagnosis.
Wildcat Ridge was the last race I ran before my diagnosis, and getting back out there means a lot to me. I've done other races since, but this one is special and I would like to mark the occasion by raising funds to help support cancer research at Memorial Sloan Kettering (my peeps). Let's get them what they need to cure cancer for everyone!
Here's your opportunity to help out; put that extra money to good use and be a force for positive change. Let's see if together we can't raise at least an extra $500 or so and get our giving total up to $4,500 for the year. That will go a long way to helping people of all stripes fight cancer.
Thursday April 19, 2018. We're entering the final stretch now for this campaign. I started "tapering" for the NJ Marathon last week, which just means taking it easy to rest up for the race on Sunday April 29. This week I only have 32 miles on the schedule (!). Please give what you can, if you can, to help support vital cancer research and treatment. Let's all pitch in to point "more science, less fear" at cancers of all kinds. You may not hear from me again until after the race, so Thank You all!
Monday March 19, 2018. Quick update; still here, training and raising funds for MSKCC. Since my last note I ran the 2018 NYC Half Marathon. Different (I think better) course this time, but the same great race. Over 22,000 people ran it and at times you could tell it was that many. The spectator crowds were awesome too, and a really big motivator just when you needed it. Like when we came off the long stretch of the FDR, where there are fewer spectators, and back onto the streets of Manhattan and - boom - there they were cheering us on.
Good race, ran it wearing Fred's Team orange. The recognition and support of the shirt from the crowd were amazing. Really good to see how many people recognize and see the importance of efforts like the one Fred's Team, and so many other charities, make to help fight cancer.
Friday March 2, 2018 update. Still training hard, still raising money for an excellent cause, and I still need your help. MSK works wonders for cancer survivors; I have direct personal experience with them. In Fred's Team I've found that amazing link between something you care about deeply (running) and an organization you really want to support (MSK). There couldn't be a better way to help make a difference to cancer, in my opinion, and I still need everyone's help to make that happen.
On a personal note, I've been training and racing. Since my last update I have done:
- New York Road Runners Gridiron 4-Mile on Feb 4 (Superbowl Sunday)
- New Jersey Trail Series, Febapple Frozen Fifty trail race (10 mile division)
- Tons and tons of training miles
I'll keep doing my part if you all keep doing yours. Thank you.
Thursday January 25, 2018. Here's a quick update on my training to let you know that your dollars are not going to waste ;)
I have been dilligently training for the NJ Marathon in April - which is the target race for this important fundraiser. To prove it, here's a picture of me at the Fred Lebow Manhattan Half Marathon in Central Park. Not a good picture, but it shows I was there!
The race is named for one of the early organizers of New York Road Runners, and the New York City Marathon across all 5 borioughs. Fred Lebow is also the "Fred" in Fred's Team. He established a charity in the 90s to support cancer research and Fred's Team was created in 1995 to honor him. He died from cancer in 1994.
There's a statue of Fred in Central Park, near the Engineer's Gate at 90th St on the east side. I ran past it 3 times on Sunday and gave Fred a little tip of the cap each time. Here's more about Fred if you're curious: https://en.wikipedia.org/wiki/Fred_Lebow.
Thank you all again for donating.
I CAN IMAGINE A WORLD WITHOUT CANCER
I'm running and raising money with Fred's Team to support critical cancer research at Memorial Sloan Kettering Cancer Center (MSK). I'm committed to making a difference in the lives of countless people touched by cancer.
SUPPORT LIFESAVING RESEARCH
By donating to my race, you can help give doctors and researchers at MSK the funding they need to make groundbreaking discoveries and conduct lifesaving clinical trials. Every dollar raised is another great stride towards progress—and brings us one step closer to a world without cancer.
THANK YOU!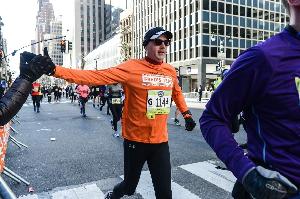 FT at the 2018 NYC Half