Welcome to My Personal Page
I CAN IMAGINE A WORLD WITHOUT CANCER
Almost two years ago our lives were forever changed by our Father's diagnosis of stage 4 prostate cancer. After meeting with several oncologists we began the process to have our Father's care and treatment done at MSK. It has been one of the best choices we made. We feel confident in the level of care he recieves and we trust the doctors. MSK has afforded us so many oportunities to extend the amount of time we have with our Father and it has allowed for his increased quality of life.
So why do we run for Fred's Team?
This is year two of running with Fred's Team and it's been such an incredible experience. There are so many elements to living a life where someone you love has cancer. The emotional impact that cancer has had is devestating. Today I would like to focus on the positve. I would rather imagine a world without cancer than a world without my Father, so I donate to and fundraise with Fred's Team. Fundraising with Fred's Team brings hope. Hope for a world without cancer, but also hope for extended life. The support of people around us brings us joy and gives each of us a reason to fight through the darkness. Funding is essential. Medicine and science are changing and growing. With funding we can see new options on the horizon. These options can equal more birthdays, more holidays, more weekends together, more memories. Fred's Team bonded our family in a way that is hard to express in words and we are all so thankful for your part in it. -Nicole
Running for Fred's team represents hope and awareness. I didn't realize how many ways that Fred's team can inspire hope until Nicole ran with them in last year's NYC Half Marathon. Her effort gave my Dad so much hope as well as a next thing to look forward to. Everyone who represents Fred's team brings hope to those who are fighting for their lives. The money raised is a step toward the next breakthrough treatment and a next step in the journey that they, and those battling alongside them are on together. Whether it's the event itself, or the steps to the starting line, being a part of Fred's team gives those who are fighting a reason to fight each and every day. I know that for my dad, he will fight like hell to see us in Berlin. -Robert
SUPPORT LIFESAVING RESEARCH
Fred's team also gives hope through the incredible work that they do to make cancer a thing of the past. Hope that cancer may be a part of your life, but not dictate your life. Every treatment breakthrough or new treatment option represents an opportunity for a cancer patient to live an extra day, week, month, year, or even many years with a sense of normalcy. As we watch my dad's physical and cognitive ability rise and fall as his body processes each treatment option he goes through; hope, emotion and reality follow in tow. The fact that the work of Fred's team can lead to one more breakthrough or one more treatment option for someone battling cancer inspires hope, hope for the estimated 174,650 men in America who will be diagnosed with prostate cancer this year.
HELP US BRING AWARNESS
Lastly, Fred's team represents awareness. I bet that number of 174,650 men being diagnosed with prostate cancer in the US THIS YEAR surprised you. 1 in 9 men will be diagnosed with prostate cancer in their lifetime. It's a very high number, it's a very common cancer. 1 in 9 will be diagnosed, 1 in 41 will die from it. Prostate cancer is highly treatable, and even CURABLE if you catch it soon enough. This fact is true for many types of cancer that effects both men and women. The outcomes are dependent on each of us taking control of our health, going to the doctor regularly, and covering our bases so that if we are unfortunate enough to be diagnosed with cancer, or something else, we ensure we are fortunate enough to have caught it early enough to fix the problem. Please use this as an awareness opportunity and schedule your next physical with your doctor. Do this for yourself and your loved ones.
THANK YOU!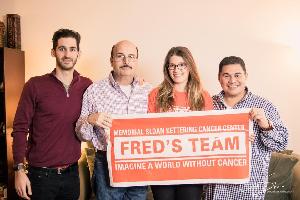 If you think this page contains objectionable content, please