Welcome to My Personal Page
This November, I will be, G-d willing, running in my 3rd New York City Marathon. Unlike the previous two, this time I am running for something much bigger than simply covering 26.2 miles. I am running to raise money for cancer research at Memorial Sloan Kettering Cancer Center as part of Fred's Team (TeamMiki) to merit the speedy recovery of Miki Katz, the daughter of our dear friends Chaya and Yaakov.
My wife Yael and I have known Miki quite literally since the day she was born - one day before our daughter Liora in the same hospital - and as undergoes treatment at MSKCC, I am buckling down on training and reaching out to friends and family to help us reach our goal.
Each dollar goes towards making a difference in the lives of cancer patients around the world and towards helping Miki make a full recovery. Please keep Miriam Bat Chaya in your prayers and please have her in mind when contributing.
With love and appreciation!
Matt
$12,463
Fundraising Total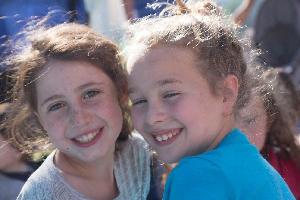 Miki and Liora