Shannon Primavera
Event: Virgin Money London Marathon
Date: April 26, 2020
Fred's Team Participant for: This is my 1st year
Donate
IMAGINE A WORLD WITHOUT CANCER
I'm running and raising money with Fred's Team to advance innovative cancer research at Memorial Sloan Kettering Cancer Center (MSK). My goal is to raise as much as I can! A donation from you will support pioneering research and give me a boost as I train for the 2020 Virgin Money London Marathon.
Cancer is something that has irrevocably changed my family in more ways than one. My wonderful, funny, beautiful and strong Aunt Jackie fights each day against this horrible disease with a smile on her face. She is the strongest person I know. I run to honor her battle and to find a cure. Donations will go specifically towards Kidney Cancer research at MSKCC. Memorial Sloan has been integral in her care and your donations can and will make a difference!!
100% OF YOUR DONATION SUPPORTS RESEARCH
Every dollar you donate gives doctors and researchers the resources they need to make life-changing discoveries and better outcomes possible—bringing real hope to cancer patients and their families. More FDA-approved drugs for cancer treatments have been developed by MSK than any other academic institution in the world. As leaders in cancer care, MSK treats over 400 types of cancer each year.
DONATE TODAY!
Your support is key to helping experts at MSK discover new and improved treatment options. Together, we can make a big difference in the lives of people with cancer.
Thank you!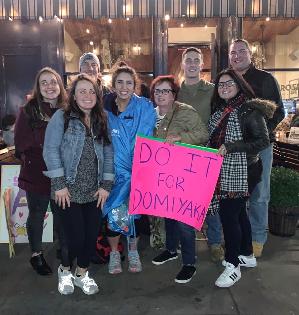 Donors
Mr John S Weinberg
$1,000
Jem Architecturals, Inc.
$200
The Fred's Team Web page and e-mail are provided as a courtesy to participants to help them manage fundraising efforts for this event. Memorial Sloan Kettering Cancer Center or any of its affiliated organizations, or their officers, directors, agents, or employees do not control, nor are they responsible for, the contents of this Web page. Any views or information provided on this Web page are the sole responsibility of the participant.

The participant's Web page may provide links to other Web sites and does not imply an endorsement by MSKCC, its affiliated organizations, their officers, directors, agents, and employees of the materials contained at those Web sites.
If you think this page contains objectionable content, please