Welcome to Martine "Krissy" Scott's fundraising page
Name: Martine Scott
Event: TCS New York City Marathon
Date: November 3, 2019
Donate
All my life I wanted to run a marathon. I would cry when I watched complete strangers cross the finish line, regardless of if they came first or dead last. I have always loved being physical, watching sports, working out, it's just my thing. My favorite part of the movie Rocky or Creed (depending on your generational reference) is watching the men train for the big fight.
So in 2016, I was in the best shape of my life, I had just had Lennon and was back to teaching my cross training classes while getting my Pilates certification. I was the fittest I had ever been.
I noticed a lump in my right breast that had grown considerably over the last nine months, but I was busy during the hustle and bustle of Christmas season so I decided to schedule a biopsy in February after Lennon's 2nd birthday. I did the biopsy with some fear and concern but of course in my head nothing really could be wrong with me. I did not have a family history of cancer of any kind, I exercised 6 days a week religiously for the past 17 years, I never smoked or ate red meat. I was the fittest person I knew, of course I was fine.
At age 34 on a beautiful clear sky Caribbean morning February 18th 2016 I was diagnosed with stage 3 breast cancer.
Memorial Sloan Kettering Cancer Center is where I wanted to be. Sean, my Mr. Makeithappen got to work on getting me there as soon as possible. I knew MSK could help me beat this thing while living in a city I already loved. What I did not count on was how amazing they would turn out to be. At our very first appointment our bubbly surgeon, after examining me, recommended a restaurant close by as well as two other procedures she wanted me to have done immediately. They called on the weekend if they had good news to report or on a public holiday when the news was not so good. There was a balance of confidence, care and focus that I appreciated beyond words.
A team was created to manage my care, a road map was created for me to follow over the next year. I did 24 rounds of Chemotherapy, a double mastectomy with reconstruction and 8 weeks of radiation, 5 days a week. The road had some very large mountains for me to climb and a couple pot holes that made me dig deep, but I had an amazing support system and a two year old to keep me smiling and focused. Getting better was my full time job and my MSK team Carrie Macie, Maura Dickler and Alexander Heerdt made it theirs as well.
I wanted to give back to MSK and what better way to do that than raise money while crossing an item off my bucket list. So I am going to run NYC marathon. I want to run with pride and gratitude through the streets of the city that helped me through the hardest year of my life. I want to cross the finish line with a sense of triumph and cry with happiness for myself this time.
For those reading my story, thanks. For those ready to click that button and donate, double thanks and know that your hard earned money is going to a kickass institution.
However for those reading who have boobs, please remember to feel them because no one knows your body like you do.
Martine "Krissy" Scott
$17,480
Fundraising Total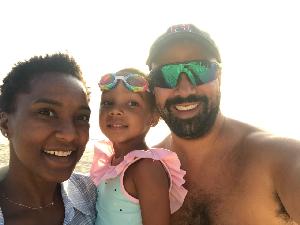 My life.