6 AM SPINNERS
Team Captain:

Mrs. Martha C Clark-Ackermann

Bike Count:

Three-Bike Team

Per Bike Average:

$7,694




Location:

Summit, NJ:

Date:

Time:
$23,082
Fundraising total
$23,082
Fundraising total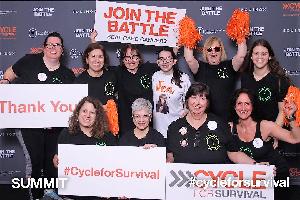 Team Honor Roll
December Challenge Match
$2,700
Dana Kravetz/Michelman & Robinson
$1,000
Glenn and Stacey Pinke
$500
Cheryl & David Miller
$360
Jeffrey Morse & Associates, Ltd.
$300
Josh, Kate, Maceman, and Wi-Fi
$250
Corporate Match for Anonymous
$150
Rick & Carolyn Resnick
$118
Karen and Ivor Macleod
$100
Butzel, Karadimas & Associates, PA
$100
David & Jennifer Obeman
$100
Joellen and Mike Milano
$100
Friedrich / DeMaio Family
$100
Mary & Steven Barrasso
$100
Ellen and Allen Endlich
$100
Matthew Anuszkiewicz
$100
Marilyn & Mickey Schulman
$100
Julie and Jeff Baltimore
$100
Adam and Judy Rogoff
$100
Debbie and Larry Silverstein
$100
Debbie and Jack Mozes
$100
Ms. Susan Berkenbush
$100
Robin & Irwin Krasnow
$100
Jack and Carmel Ann Pescatore
$100
Alison & Bob Wachstein
$100
Elaine and Fred Brasch
$100
Abby & Joel Goldberg
$100
Robyn, Mike, Andrew and Ryan Laveman
$96
Corporate Match for Larry
$60
Lori and Harlan Cohen
$60
Andrew & Michele Gilfillan
$60
Elliot & Ashley Friedman
$54
Linda and Larry Ehrlich
$54
Charles & Aileen Starkey
$50
Jackie & Cris Colicchio
$50
Debra Lewis and Alisa Hare
$50
Hedy and Paul Brownstein
$50
Holly & Antone DeSantis
$50
Lynn and Ed Rodriguez
$50
Alyse & Mitchell Reiffman
$50
Bruce and Cathy Fischberg
$50
Tara and MIchael Kahn
$36
December Challenge Match
$25
Corporate Match for Maxine
$25
Michele and Marc Simmons
$25
Dilli Dalli's Party Place
$25
Donna and Doug Brower
$20
Helene and Ed Williams
$18

Martha Clark-Ackermann
$6,202

Denotes a Team Captain
JOIN THE BATTLE. Beat Rare Cancers.
WELCOME TO OUR TEAM'S PAGE!
We are riding and raising money for Cycle for Survival, the movement to beat rare cancers. Will you help us surpass our fundraising goal by making a donation?
100% of every dollar funds innovative studies and clinical trials led by Memorial Sloan Kettering Cancer Center (MSK). Discoveries made by MSK revolutionize how cancer is diagnosed and treated, benefitting patients everywhere.
Join our team or donate today. Your gift will help give people with rare cancers a better future through new and improved treatments. Since 2007, Cycle for Survival supporters have provided resources to hundreds of doctors and scientists to pursue bold ideas that have led to the FDA approval of new drugs, lifesaving clinical trials, and four state-of-the-art DNA sequencers that are aiding in key cancer discoveries.
Thank you for supporting us!
The Cycle for Survival Web page and e-mail are provided as a courtesy to participants to help them manage fundraising efforts for this event. Memorial Sloan Kettering Cancer Center or any of its affiliated organizations, or their officers, directors, agents, or employees do not control, nor are they responsible for, the contents of this Web page. Any views or information provided on this Web page are the sole responsibility of the participant.

The participant's Web page may provide links to other Web sites and does not imply an endorsement by MSKCC, its affiliated organizations, their officers, directors, agents, and employees of the materials contained at those Web sites.