Welcome to Our Team Page
Team: Coog's Crew
Event: TCS New York City Marathon
Date: November 4, 2018
Donate
PLEASE DONTATE TO INDIVIDUAL PAGES OF TARA OR TOMMY DO NOT CLICK DONATE ON THE TEAM PAGE! THANK YOU :)
Coog's Crew (Tara Coogan and Tommy Foley) are running the NYC Marathon for the first time! We are running in honor of Peter Coogan (Tara's Dad), who has been fighting melanoma cancer on and off since 2012. Pete is a Yonkers Firefighter and union electrician with IBEW Local 3 who has given his whole life to his family, community and work. In 2012 melanoma was found in his finger and the prognosis did not look good. The location of the melanoma was a rare, unusual type of skin cancer. Pete ended up getting a part of his finger removed and surprisingly the growing melanoma had not spread beyond the portion removed. He was lucky enough to be treated and seen by a wonderful team of doctors at Memorial Sloan Kettering. Over the last five years, he has had various reoccurrences with the most recent being in a particularly difficult area under his collarbone. Memorial Sloan Kettering administered two different treatments and performed another surgery. After a yearlong fight his scan came back clear in the last week!
It is because of Pete and too many others fighting cancer that we want to run our first ever NYC marathon with the Memorial Sloan Kettering team. We hope by raising money and awareness of a disease that affects so many, we can become one step closer to a cure. Through research and science everyone who has to fight cancer can come out on top, just like Pete.
Memorial Sloan Kettering is ranked as one of the best hospitals for cancer care. Through our family's experiences everyone has been so kind and caring, from the wonderful nurses to doctors, parking lot attendants and all other staff. To run with this team will feel like we are running with family. We hope you can help us reach our fundraising goal of $7,000. No donation is too small!!!
We look forward to our family and friends coming out to support us on our run through NYC on November 4, 2018.
Thank you for your support, Tara Coogan & Tommy Foley
$10,302
Fundraising Total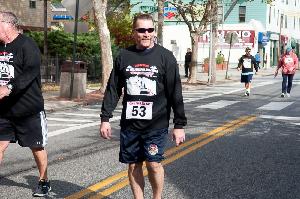 Peter Coogan walking a 5k Last Year.