Welcome to Our Team Page
Team: Running for Moms
Event: TCS New York City Marathon
Date: November 4, 2018
Donate
WE'VE GOT THIS!
On Sunday November 4th, Lynn Lewis and I will be running those 26.2 miles (each!) in the NYC Marathon in order to raise funds for cancer research. Both Lynn and I lost our precious moms to cancer. Cancer touches all of us and is devastating. However so much progress in being made in cancer research that in more and more cases, cancer is being overcome. Our goal is for it to be overcome in EVERY case.
PLEASE GIVE YOUR SUPPORT
Every mile we pound on that Marathon Sunday will be in honor of our moms, raising funds for cancer research at Memorial Sloan Kettering. Please do support us! No donation is too small. Every dollar we raise is a great stride towards progress — bringing us closer to the day that we won't have our moms and loved ones taken away from us prematurely.
THANK YOU FOR YOUR GENEROSITY
With love from Lynn and Nadja xxx
$38,993
Fundraising Total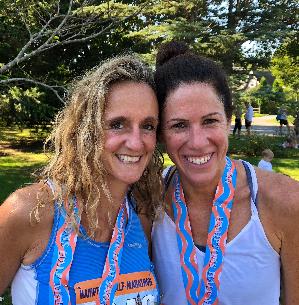 Hampton's Half - Just getting warmed up