Welcome to Our Team Page
Team: Mary's Gals
Event: TCS New York City Marathon
Date: November 3, 2019
Donate
Join Our Team
In 2005, Laurie & Eilish and a number of other wonderful women did their inaugural 3-Day 60-mile walk to fight breast cancer in Boston. We named ourselves "NYC Gals" and walked in honor of all those fightig breast cancer. One special survivor and our biggest cheerleader was Eilish's mom, Mary! Mary traveled to so many of our walks in various cities and was such an inspiration as she lived such a full life - even after her diagnosis many years earlier.
Mary passed away on July 4, 2017--after a truly amazing life where she never let her fight with cancer beat her spirit. Mary received wonderful care from all the doctors and nurses at Memorial Sloan Kettering - which makes it so appropriate that we honor Mary and all the great work that MSK does through the 2019 Marathon as part of Mary's Gals!
Laurie and Eilish have run NYC Marathons before -- but this one will be extra special as we know that every step of training and every dollar raised will help MSK work in the fight against cancer!
If you can - we would love your support in honor of "Mary's Gals" and all those who have fought the tough fight against cancer! Together - we can truly make a difference. And even though we know finishing the 2019 NYC Marathon won't be easy - together, we can do it!!
I CAN IMAGINE A WORLD WITHOUT CANCER
We're running and raising money with Fred's Team to support critical cancer research at Memorial Sloan Kettering Cancer Center (MSK). We're committed to making a difference in the lives of countless people touched by cancer.
SUPPORT LIFESAVING RESEARCH
By donating to our race, you will be giving doctors and researchers at MSK the funding they need to make groundbreaking discoveries and conduct lifesaving clinical trials. Every dollar raised is another important stride toward progress — and brings us one step closer to a world without cancer.
THANK YOU!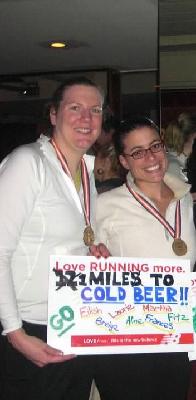 Eilish & Laurie after the 2008 NYC Marathon!