Welcome to Our Team Page
Team: Smash Cancer 3.0
Event: TCS New York City Marathon
Date: November 3, 2019
Donate
I CAN IMAGINE A WORLD WITHOUT CANCER
We're running and raising money with Fred's Team to support critical cancer research at Memorial Sloan Kettering Cancer Center (MSK). We're are specifically raising money for breast cancer research. Our team captain Ashley Landay is a Stage 4 thriver. While we are a scrappy team of misfits our goal is to reach $100K. It's a big hurdle, but so is cancer.
SUPPORT LIFESAVING RESEARCH
By donating to our race, you will be giving doctors and researchers at MSK the funding they need to make groundbreaking discoveries and conduct lifesaving clinical trials. Every dollar raised is another important stride toward progress — and brings us one step closer to a world without cancer.
THANK YOU!
$135,000
Fundraising Goal
$148,715
Fundraising Total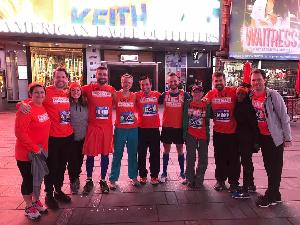 | Smash Cancer 3.0 | Raised |
| --- | --- |
| Ashley Landay | $13,608.20 |
| Benjamin Bonenfant | $3,640.00 |
| Nikki Croteau | $3,556.00 |
| Laurie Ferrendelli | $8,000.00 |
| Marieve Gauthier | $11,677.00 |
| Claire Hampsey | $5,193.00 |
| Laurence Hasson | $37,204.25 |
| Lindsay Hawkins | $1,597.00 |
| Ryan Kilbane | $4,795.00 |
| Ashton Kim | $6,443.11 |
| Joshua Landay | $8,015.40 |
| Stephanie Lang | $4,812.40 |
| Udee Narayan | $4,892.00 |
| Allin Nowenstein | $1,170.00 |
| Ashley Pildis | $2,775.60 |
| David Pildis | $11,641.20 |
| Christal Post | $1,566.20 |
| Jeffrey Post | $1,562.00 |
| Howard Voletsky | $1,184.00 |
| Kim Warriner | $3,596.00 |
| Kyle Warriner | $3,590.00 |
| Ron Williams | $3,540.00 |
| Team Gifts | $3,106.10 |