OG Spinderellas
Team Captain:

Mrs. Christina Trujillo-Ayoub

Bike Count:

Three-Bike Team

Per Bike Average:

$46,181




Location:

San Francisco, CA:

Date:

Time:
$125,000
Fundraising Goal
$138,543
Fundraising total
$138,543
Fundraising total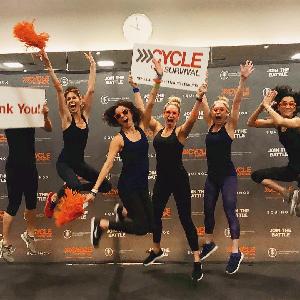 Team Honor Roll
Corporate match for OG Spinderellas
$19,574
Brave Like Gabe foundation
$9,860
INTERMIX FILLMORE 3/3
$1,500
The Setton Foundation
$1,000
INTERMIX FILLMORE 2/3
$1,000
Analisa & Alexander Ayoub
$1,000
INTERMIX FILLMORE 1/3
$1,000
Asphalt Surfacing, Inc.
$500
Corporate Match for Ritu Bhargava
$500
Gretchen, Avery, and Woody
$250
Xtina TrujilloAyoub OG Spinderella/Decade Rider
$250
Corporate Match for Looches.
$250
Sydney and Tim McDowell
$250
Shadi Vaziri Murillo
$250
Shelton, Drew, Charlie and Grace
$250
Kian, Mehran and Ali
$250
Scott and Christine Connors
$250
Halley and Drew Lydecker
$250
Marie Ma and Russ Taga
$250
Corporate Match for Shadi Vaziri Murillo
$250
Simin and Hossein Robani
$250
Jeff and Sara Hutsell
$250
The Dorronsoro Family
$250
Erik and Natasha Altman
$250
Theresa & Trent Jackson
$250
Charlton & Morgan Gholson
$250
♥️Laura and Jen
$250
Kristen Frank Chaudhry
$150
Bill & Aileen Garcia
$125
Pierre-Marie & Mathilde
$100
Jessica, Justin + Jayce Roja
$100
Adrian 👋💪🚴‍♀️
$100
Nick, Alisha, Olivia, and Annabelle
$100
Michelle & Paul DyLiacco
$100
Corporate Match for Dessie Sadrzadeh
$100
Valerie Zapanta-Koselke
$100
Kim and Bill Mulligan
$100
Ajit & Rita Sancheti
$100
Teegan & Tayler Tang
$100
Kara, Daniel, and Mackenzie Harmon
$100
Kevin Cary and Brandon
$100
The Winterfeldt Clark Family
$100
Jennifer Larson Hall
$100
Corporate Match for The Archers
$100
Gorjana and Griffin Inc
$100
Jolene Yee and Jeff Smith
$100
Christine & Jeremy Welland
$60
Brian Cason (Personal)
$60
Tom, Elissa, Ben & Jack
$50
Viviane & Adam Cashman
$50
Brave Like Gabe foundation
$50
Dave + Corinne Courtney
$50
Rebecca Goldsmith & Mike Freedman
$50
YOUR Giant Fan, Diane McDermott
$40
Pat and Nancy Weber Good
$30
Natalie and Dallas Yount
$25
Maura and Jason Rhodes
$25
Phillip Curtis Richards
$20

Christina Trujillo-Ayoub
$38,396

Denotes a Team Captain
JOIN THE BATTLE. Beat Rare Cancers.
OG SPINDERELLAS DECADE YEAR FIGHTING TO BEAT CANCER!
Our team is riding for our 10th year for the DECADE ride in San Francisco to raise money for Cycle for Survival, the movement to beat rare cancers. Since 2011 we as a team have raised over HALF A MILLION DOLLARS to support rare cancer research! Please help us surpass our fundraising goal and honor our 10th year by making a donation!
Over the 10 years our team has morphed and changed with our members but our goal is always the same...FIND A CURE to BEAT RARE CANCERS. All of our members over the past 10 years have had personal battles to fight in support of family members, friends and loved ones. It has been our honor to continue to fight this battle for everyone that cannot, and greatly appreciate the love, support and dedication all of our donors have given us over the past decade. Please click on the names of each team member to learn more about each of our motivations and WHY WE RIDE.
Donate today. Your gift will help give people with rare cancers a better future through new and improved treatments. Since 2007, Cycle for Survival supporters have provided resources to hundreds of doctors and scientists to pursue bold ideas that have led to the FDA approval of new drugs, lifesaving clinical trials, and four state-of-the-art DNA sequencers that are aiding in key cancer discoveries.
100% of every dollar funds innovative studies and clinical trials led by Memorial Sloan Kettering Cancer Center (MSK). Discoveries made by MSK revolutionize how cancer is diagnosed and treated, benefitting patients everywhere.
Thank you for supporting us for our 10th year!!
Love, The OG Spinderellas (Christina, Kelly, Marya, Nika, Dessie and Shadi)
The Cycle for Survival Web page and e-mail are provided as a courtesy to participants to help them manage fundraising efforts for this event. Memorial Sloan Kettering Cancer Center or any of its affiliated organizations, or their officers, directors, agents, or employees do not control, nor are they responsible for, the contents of this Web page. Any views or information provided on this Web page are the sole responsibility of the participant.

The participant's Web page may provide links to other Web sites and does not imply an endorsement by MSKCC, its affiliated organizations, their officers, directors, agents, and employees of the materials contained at those Web sites.