Pump It Up
Team Captain:

Mr. Jonathan Semon

Bike Count:

Two-Bike Team

Per Bike Average:

$37,444




Location:

New York, NY:

Date:

Time:
$100,000
Fundraising Goal
$74,887
Fundraising total
$74,887
Fundraising total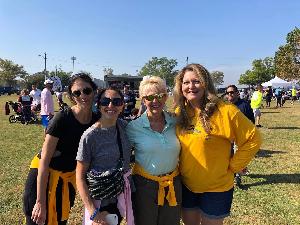 Team Honor Roll
The Semon Family Charitable Fund
$10,000
In memory of Laurence Polatsch
$10,000
Bonnie & Sig Semon
$2,000
Kate and Paul Ramundo
$1,000
The Family of James N. Rentas
$500
Claire and Ed Stiepleman
$500
Richard & Gloria Honeck
$500
Felice and Jeffrey Anikstein
$500
Susan and Gary Flyer
$500
The Rappaport Family
$500
Bonnie & Steven Kanowitz
$500
Melissa & Andrew Kaminsky
$500
Helaine and Brian Shapiro
$500
Richard and Felice Blumberg
$500
Jonathan, Marsha, Ariela and Jared Semon
$500
Ilona and Michael Cohen
$250
Jocelyn and Scott Sontag
$250
Brooke and Charlie McCaghey
$250
Marc and Rona Oliver
$250
Ellen and Stephen Greenberg
$250
Corporate Match for Maureen & Shawn Springfield
$250
Shari & Cary Scharlat
$250
Maureen & Shawn Springfield
$250
Jason and Ashley LaTorre
$250
Melanie, Ryan & Marissa Gottlieb
$250
Lori and Larry Braverman
$250
Ally Freundlich and Alan Model
$250
Gladys & Elliot Levine
$250
Marina Niceta de Palazzi and Family
$250
Dave and Heather Tarifi
$250
Anna & Anthony Lorino
$250
Alina and Alex Golant
$200
The Kirschner Shave Family
$200
Michelle and Doug Cohen
$150
Allison Zysman and Larry Knafo
$150
Yana and Brian Blitz
$150
Linda and Harvey Schilowitz
$150
Laurie and David Levine
$150
Jacqueline and Brian Weiner
$150
Anita Wolfman and Phil Stewart
Allison Patterson and Family
$100
Dana Lichtenstein Annis & family
$100
Sheila and George Leibowitz
$100
Scott and Judy Moskowitz
$100
Judy and stan freundlich
$100
Adam and Melissa Kudelka
$100
Linda and Jerry Levine
$100
Laurie Bernstein & Julian Swearengin
$100
Maria and Esad Mulic
$100
Noah and Brooke Sanders
$100
Risa and Lou Grossman
$100
Gladys & Robert Honigfeld
$100
Donna Prague Rodolitz
$100
Rich & Gina (Lorino) Giuditta
$100
The Teitler/Wolpoff Family
$100
David and Nancy Rabbach
$100
Steph Weiner Gelwarg and fam
$100
Lauren & Lance Williams
$100
The Kowlowitz Family
$100
Elaine Lesser and Jerry Morgenstern
$100
Dr. and Mrs. Robert Marcovici
$100
The Goldsmith Family
$100
Linda & Joe Savarese
$100
Michael & Nancy Bank
$100
Leslie and Adam Venokur
$100
Marty and Ellen Prague
$100
Arleen and Ed Littman
$100
Fran Lilling and Frank Freeberg
$100
The Greenberg Family
$100
Madelyn and Arthur Lambert
$100
Bonnie and Jay Deutsch
$100
Friends of Bonnie and Sig
$100
Gordon & Rita Waldorf
$100
Lucille and Ronald Greene
$100
Michele Werner & Family
$100
Ginny and Ron Bianchi
$100
Ann and Arnold Schotsky
$100
Terry and Richard Wallach
$100
Bonny and Marvin Rosen
$100
Joan and Gerald Kimmelman
$100
Ilyssa and Steve Karasik
$50
Cara Blaszka and Family
$50
Judith Ginsburg and family
$50
Sandy and Robert Kanin
$25
Love from Ron's Mom Betty
$25
Joyce and Martin Zuckerman
$25
Renee and Stu Copperman
$10

Jonathan Semon
$45,076

Denotes a Team Captain
JOIN THE BATTLE. Beat Rare Cancers.
Cancer wasn't supposed to happen to me. I had no family history; I was too young; I ate well; I exercised; I went to the doctor when I was supposed to go; I had never had any serious medical issues; I was negative for any BRCA gene mutations. Cancer wasn't supposed to happen to ME. But despite all of the really great reasons why it wasn't supposed to happen, I was diagnosed with Colon Cancer at 41 years old...and it was Stage 4. There is no Stage 5.
I had a large tumor that almost completely obstructed my colon (or large intestine), and I went on to find out later that it had metastasized to my liver and my lungs. What followed my diagnosis was a brutal and excruciating series of treatments that has thus far included 5 surgeries, 39 rounds of chemotherapy and 5 ER visits, as well as plenty of other pretty unpleasant things. The 5-year survival rate for Stage 4 Colorectal Cancer is said to be somewhere around 11-14%, depending on the source. Not exactly favorable odds. Yet, here I am, 3.5 years post diagnosis, and I have no evidence of disease. Why? Am I one of the lucky ones of the unlucky ones? Perhaps. But I don't chalk it up to just not drawing the shortest straw. There came a point in my treatment when I was forced to make some changes. Those changes brought me to Memorial Sloan Kettering Cancer Center (MSKCC) and a medical oncologist named Dr. Nancy Kemeny. I soon learned that she is a brilliant, tireless giant of a doctor and human, a woman who is unafraid to think outside the box and treat aggressively and who pioneered a cutting edge treatment called Hepatic Arterial Infusion Therapy. She did it against many odds, simply because, in her words, "everyone was dying and something had to be done." Depending on which of her published studies you read, she has 5 year survival rates for Stage 4 patients as high as 52%...a far cry from the 11-14% overall Stage 4 survival rates. She could have retired by now...but she hasn't slowed down. She still sees thousands of patients, conducts ongoing research, runs numerous clinical trials and trains doctors from all over the world on how to administer the life saving treatment that she pioneered.
On February 8, 2020, my husband, Jon, as well as some dear family and friends, will be riding in a Cycle for Survival event to raise money for MSKCC that will be allocated specifically to Dr. Kemeny's research so that she can continue saving lives...just like she saved mine.
Please, please join us in raising money for this incredibly important research. Let's stop Colorectal Cancer from being one of the deadliest cancers. EVERY little bit helps. Here are links to donate and, if you are interested, to hear more about this cutting edge treatment. Thank you so so much for your support.
Marsha
XOXOX
P.S. Colorectal Cancer (CRC) is one of the deadliest, yet most PREVENTABLE, cancers. Each year, almost 2 million people will be diagnosed worldwide and almost 1 million will die. It is the 3rd deadliest form of cancer. The number of early onset cases of CRC (below age 50) is on track to double by 2030. As per American Cancer Society guidelines, if you are 45 or over, GET A COLONOSCOPY!!! If you have symptoms or a family history, GET A COLONOSCOPY!!!
https://www.mskcc.org/videos/treating-liver-metastases-hepatic-arterial-infusion-therapy
The Cycle for Survival Web page and e-mail are provided as a courtesy to participants to help them manage fundraising efforts for this event. Memorial Sloan Kettering Cancer Center or any of its affiliated organizations, or their officers, directors, agents, or employees do not control, nor are they responsible for, the contents of this Web page. Any views or information provided on this Web page are the sole responsibility of the participant.

The participant's Web page may provide links to other Web sites and does not imply an endorsement by MSKCC, its affiliated organizations, their officers, directors, agents, and employees of the materials contained at those Web sites.