LadyBirds
Event: United Airlines NYC Half
Date: March 15, 2020
Donate
This year Sasha and I are running for Fred's Team to raise money for breast cancer research at Memorial Sloan Kettering Cancer Center. On March 15th these sisters are running in honor of Kiley, who in addition to being a daughter and mother of two, is also a sister. Kiley has been fighting breast cancer since 2017. Like everything she does, she has done so with a grace and stoic resilience that is truly inspiring to bear witness. Kiley is one of those people who turns heads as soon as she enters the room. Her elegance, poise and kindess make it almost impossible to detect the war that has been raging inside her body. Kiley is a fighter. She is fighting for herself, her husband, her beautiful children, she is fighting for her sisters.
This year, these sisters tip their hats to Kiley and all the other daughters, mothers and sisters who are fighting against breast cancer every day.
We run for you as we stand alongside you, every step of the way.
To learn more about Kiley and her story visit her blog at:
No such thing as too much pink — Kiley Durham Jewelry and Design
Every dollar you donate gives doctors and researchers the resources they need to make life-changing discoveries and better outcomes possible—bringing real hope to cancer patients and their families.
Together, we can make a big difference in the lives of people with cancer.
Thank you!
Nina and Sasha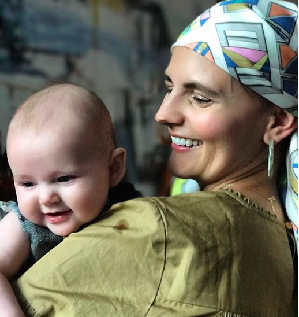 Donors
David and Kiley Castricone
$2,500
Ken, Amy and Jon Durham
$500
Aimee & Jonathan Mars
$420
Sarah and Hugh Boston
$350
Tracy & Nick Castricone
$250
Ronald and Caroline Frohne
$250
Ms. Nina Linn Friedman
$100
Sam, Kinan, and Nola
$100
Ashley & Charlie Ashwander
$100
Coco Weisspfennig - Sun
$79
Sloan and Saylor Loudis
$60

Nina Friedman
$350

Denotes a Team Captain
The Fred's Team Web page and e-mail are provided as a courtesy to participants to help them manage fundraising efforts for this event. Memorial Sloan Kettering Cancer Center or any of its affiliated organizations, or their officers, directors, agents, or employees do not control, nor are they responsible for, the contents of this Web page. Any views or information provided on this Web page are the sole responsibility of the participant.

The participant's Web page may provide links to other Web sites and does not imply an endorsement by MSKCC, its affiliated organizations, their officers, directors, agents, and employees of the materials contained at those Web sites.