Celebrating Three Years Post-Transplant!
Name: Luisa Lyons
Event: TCS New York City Marathon
Date: November 5, 2017
Donate
In July 2014, six weeks before my 30th birthday, I was diagnosed with acute myloid leukemia. I was a non-smoking, barely drinking, vegetarian, who exercised and meditated. Not exactly the prime candidate for cancer, and definitely not a disease that more commonly affects men in their sixties.
I underwent three rounds of chemo, full body radiation, and a stem-cell transplant. The day after my transplant, I watched the 2014 NYC Marathon from my window at Sloan Kettering and determined that one day I would run in the race.
The recovery was long, often painful, and frustrating. My fingernails fell off one-by-one, everything tasted like poison, I lost weight, gained weight, and went into early menopause.
After three false starts, I was finally able to start running again. To celebrate two-and-a-half years in remission, I ran the Brooklyn Half Marathon. What better way to celebrate my three year transplant anniversary, and say thank you to my amazing MSK team, than running the NYC Marathon?!
I wouldn't be here today if it weren't for the research, and the cutting-edge treatments from Sloan Kettering. Help me raise funds to continue their incredible work and make leukemia a disease of the past.
THANK YOU!
Follow my training at www.luisalyons.com!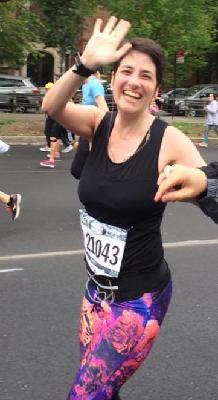 photo by Paula Fleischer