Andrew Kalley: Swim, Bike, and Run In The Fight Against Cancer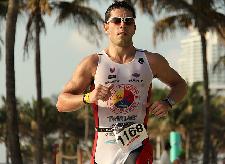 My Story
I am excited to share that in September 2015, I will be representing the United States by competing at the USA Triathlon World Championship in Chicago, Illinois. This would not be possible without the medical support of MSKCC where I underwent surgery this year and am still receiving chemotherapy. I have coached endurance and multisport athletes since 2007 and been competing at an elite level for many years. While I have qualified for USA World five times, and count 10 Overall 1st Place wins at various races, the greatest challenge of my life will be happening behind the scenes.

In December 2014, I was diagnosed with late stage 3 colon cancer. As you can imagine, the news came as a complete shock considering I have no history of cancer in my family, my age at 31, and my lifestyle of clean eating with heavy doses of activity. My doctors confirmed that the tumor had grown to an extreme size over the course of just one year. However, I was very fortunate that the cancer had not spread further, and that I was in the hands of such a great team at MSKCC. I experienced the marvels of modern medicine when I received laparoscopic surgery within a month of my diagnosis, and was (slowly) walking laps around the hospital floor the very same evening.

Thank you to everyone for the tremendous amount of love and support that I received during my surgery, while I was in the hospital, and now during chemo. No day is easy, and some are worse than others. I am touched by all of the kind words and gestures, emails, and text messages that have cheered me on while I recover. Having the extra support of my teammates, friends, and family has given me strength during this challenging time to stay positive.

I share this story because I know cancer has probably affected all of us in some way, whether it be a family member or a friend. Now I know first hand how brutal and unfair this disease can be. My goal is to come back stronger and better than before. We all face challenges and I know this one will make me even tougher than I ever thought possible. I am determined that this illness will be a minor setback for my life and everything I hope to accomplish. I hope I can use my experience to inspire others.

Triathlon is not just about racing, but also knowing your limits. I push my athletes to bring out the best in them, both physically and mentally. Sometimes your best is knowing when to say - something's wrong and I need help. I intend to continue pushing my own limits as I undergo chemotherapy and train for Worlds with the help of MSKCC.

Now it's my time to give back. I am dedicating my training for this race to MSKCC in the fight against colon cancer. My journey for fundraising and awareness starts in 2015. Won't you be a part of this worthy cause?

Please consider a donation to MSKCC in the link above. All money raised directly supports MSKCC by funding the world's most promising research for discovering better treatments and a cure. Since 100% of every donation goes directly to fund research initiatives within six months, your contribution really makes an impact. If your company has a matching gift program, you can make an even bigger difference.

As a deep-hearted thank you, I will continue to give you updates on my progress in my health and training for Worlds. We win this together. Chicago 2015 here I come!!
Raising Awareness
According to the CDC, colon cancer is the second leading cause of cancer deaths amongst men and women in the United States. Every year, about 140,000 Americans are diagnosed with colon cancer, and almost a million are diagnosed worldwide. But this disease is highly preventable.

Here Is What You Can Do:

- Since more than 90% of colon cancers occur in people aged 50 and older, get screened regularly after the age of 50. Screening tests help prevent colon cancer by finding precancerous polyps (abnormal growths) so they can be removed. Screening also finds this cancer early, when treatment can be most effective.
- Be physically active.
- Maintain a healthy weight.

Did You Know:

The antioxidant effects of polyphenols in green tea can protect cells from DNA damage, inhibit tumor cell proliferation, induce tumor cell death, modulate immune system function, and activate detox enzymes in the body. While the NCI does not make recommendations about specific medical or dietary interventions, I now drink a few cups each day!
Updates
January 2015:
- Surgery. Lost 20 pounds. :/
February 2015:
- Began chemo. Round 1 - done!
March 2015:
- Cleared for light cardio. Rode 26 miles after Round 2 of chemo.
- Starting to go for light runs again.
- Cleared to push / pull. Can't wait to get back to the weights.
Round 3 of chemo
- Toughest one yet. Very painful
-Worked out 9 out of 10 days
-2 mile timed run for Charity Kick Off in 12:40! Woohoo!
April 2015:
- 6 consecutive weeks of training in the books
- Round 4 of chemo was much better. I haven't needed to rest as much as last time.
Post-April 2015:
- A few rounds later and I am starting to have a fresh perspective on life. What is most important to you? Leave me feedback at http://www.kalleyfitness.com .

I am so thrilled to share that I had a successful race at the USAT National Championship this August. Kalley is going to Worlds in 2016 (along with 4 incredible athletes from our team)! A deep thank you to everyone for your love and support, and for your donations to this GREAT cause. MSKCC is world class!! I could not have done this without you.
View More
Fundraising Honor Roll
Kelly Dooley Official, LLC
We stand with you Andrew!
Risto, Mari, Niko, Sophie
Alexis, Chris, Reilly & Maddy Herron
Christopher and Sandy Foster