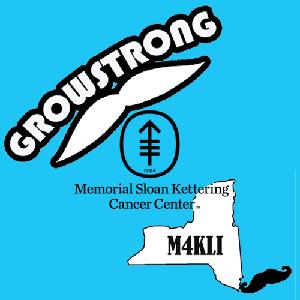 Mustaches For Kids LI 10th Annual Grow Season
The Mustaches for Kids Fund was created this past year by Memorial Sloan Kettering to benefit various patient support programs in the Department of Pediatrics at MSK that are in need of additional funding. Specifically, the fund will help build the Teen and Young Adult (TYA) Program, which addresses the emotional needs of patients between the ages of 16 and 28. MSK is developing a mobile app to help TYA peers connect and support each other. A dedicated TYA Lounge recently opened as a space to socialize and relax away from the clinical setting. The Mustaches for Kids Fund will also help to provide vital non-medical support for families who are struggling with the emotional, financial, and logistical challenges that can adjoin a diagnosis of childhood cancer. Having to seek out and pay for hotels, meals, parking, and sibling childcare adds strain and anxiety. Removing these complexities enables parents to focus on their most important task: supporting and healing their child.
ABOUT THE MUSTACHES FOR KIDS LONG ISLAND CHAPTER
We wondered about them for years. We were curious.... yet frightened. We always wanted to know what it would be like, but the reality of making it happen seemed unlikely. Yes... we're talking about Mustaches.
Then it happened. A couple of friends from Long Island looking to raise some money for a good cause came upon an organization called Mustaches For Kids. An organization that told us hey... you're mustache probably won't look like Tom Selleck's. In fact, it's a lot more likely to look like that little old lady's down the street - and that's ok.
Just like that the fear was gone. This was it - Grow Mustaches, have fun with our families, friends and make a lot of new friends along the way and most importantly raise money for a charity that's going to help children. There was no looking back. Word spread fast and the Long Island Chapter of Mustaches For Kids was born. We met at the TIKI BAR in Long Beach and people showed up by the dozens (about 3 dozen to be exact). Our volunteers quickly shaved their faces and on November 16, 2007 the the growing began. Fast forward and now it's 2016 and we're continuing to GROWSTRONG! and we hope you decide to join us in our cause.
We're having a good time and raising money for a great cause all at once. 100% of all the money goes to the Mustaches for Kids Fund which benefits the Pediatric Cancer Care Center at Memorial Sloan Kettering. There's an English proverb that says "A man without a mustache is like a cup of tea without sugar." Just as sugar sweetens the tea, so do the mustaches sweeten our lives and hopefully, the lives of those around us.
Too many of us have known people who have faced a cancer diagnosis, and sometimes it's hard to know how we can make a difference. We've created this page because we are determined to help the kids visiting the Pediatric Cancer Care Center at Memorial Sloan Kettering continue being kids.
We want to know that we have been a part of making these children's lives a little bit easier and it would mean that much more to us if you would join usin the effort so that we can say that we helped make it happen. Every dollar counts, and I hope you will be as generous as you can.

Thank you!
Mustaches for Kids Long Island Chapter
www.m4kli.com
View More

Mustaches For Kids LI 10th Annual Grow Season
Event Honor Roll
Mustaches for Kids Event Day Donations
Stairbuilders-Paul and Jeremy
Justin Fitzmartin & Sarah Eriksen
Isabella & Hunter Silverman
Kiefer Family~ In memory of FDNY FF Michael Kiefer 9/11/01
Long Beach Classroom Teachers Assn
Joyce and Jerry Skobinsky
Kristina and Matthew Santeramo
Brett and Tiffany Kimmelman
Paolo & Michelle Nicolosi
Mr. Patrick Joseph Fitzgerald
Grace Cucchissi & Karen O'Callaghan
Susan Campbell & Ned Bassen
Maddie and Glenn Silverman
Dr. Larry and Bonnie Seidman
East Rockaway Veterinary Hospital
Nicolas, Melissa & Matthew Gabillon
Jason and kimberly ginsberg
Thomas and Meghan O'Callaghan
JoAnn Buchanan and Stephen Smith
Mrs. Renuka D. Jhoda-McCreight
Andrew and Lisa Bockstein
jaimi , allan and shannan lenn
Al, Becky, Andrew & Emily
Richie,Connie,Katie and Matthew
Bob Hornsby & Minne Iwamoto
Top Donors
Mustaches for Kids Event Day Donations
Anonymous
Josh Cohen
Jamie Worden
Eric Geller