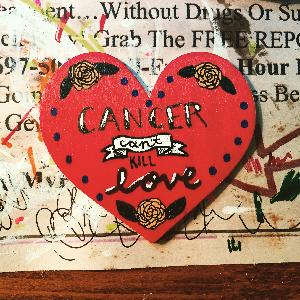 5th Annual Cancer Can't Kill Love Benefit Concert
By 22, I'd lost both of my parents to cancer.
No more than one month after my mother, Joanne, lost a brief four-month battle with Leukemia, friends gathered from near and far to celebrate her life - and the life of my father, Butch, who succumbed in 2008 to asbestos-triggered lung cancer brought on by his work at Ground Zero - while also raising money to get me back on my feet.
And so, the first ever Cancer Can't Kill Love Benefit Concert was born. Named after a sermon spoken at my mother's funeral and thrown together by a few close friends, the November, 2013 fundraiser served as a platform for local bands to share the stage and supporters to make a toast, all with one common goal: tell cancer to take a hike.
One year later, we raised the stakes.
The Second Annual Cancer Can't Kill Love Benefit Concert saw six local bands, hundreds of attendees and over $6,000 in donations, every cent of which went straight to Stand Up To Cancer, a national organization dedicated to doing just that: standing up, in honor and in memory, of those who have fought the good fight against cancer.
The Third Annual blew our expectations out of the water and brought in an incredible $13,000 for Memorial Sloan Kettering Cancer Center -- the very hospital my father called home for most of his treatment. The fourth did the same, racking up another (totally casual) $13,000.
That brings our grand total to over $32,000 to-date. That's $32,000 towards keeping families together and ending this fight for good.
This year, we're doing it all again.
The Fifth Annual Cancer Can't Kill Love Benefit Concert will take place on Saturday, September 23 at The Leif Bar (6725 Fifth Avenue, Bay Ridge, Brooklyn) from 2 p.m. to midnight. More bands. More money. More love.
Join us. Bring a friend. Laugh 'til you cry and vice versa.
For more information or to get involved, e-mail mcgoldrickmeaghan@gmail.com, check out the hashtag #CancerCantKillLove or visit www.cancercantkilllove.com.
More info and full lineup available there.
View More

Meaghan McGoldrick
$11,816

5th Annual Cancer Can't Kill Love Benefit Concert
Event Honor Roll
Arthur and Denise Gormley
Patricia and Tommy Stramka
Catherine & Carlo Trovato
Top Donors
Event Donations
Tom & Helene Dambro
Arthur and Denise Gormley
Anonymous
Michael Ritz