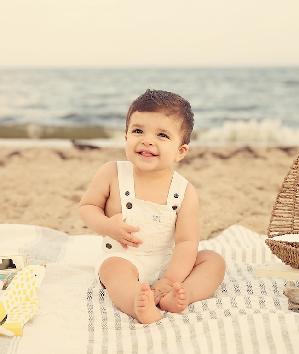 One More Step for Nicolas
I've created this page to raise funds for research at Memorial Sloan Kettering, and I hope you'll consider joining the cause and making a donation.

Many of the most important breakthroughs in research and treatment have been brought to light at Memorial Sloan Kettering, and none of that progress would have been possible without support from people like you and me.

This is the story of a little boy, Nicolas Lorusso, who was diagnosed with stage 4 Neuroblastoma cancer in November 2016 at just 16 months old. The cancer also caused him to develop Opsoclonus Myoclonus Syndrome (OMS) which is an extremely rare neurological disease that affects 1 in 10 million children per year worldwide. Antibodies in his immune system designed to fight off the cancerous tumor ended up attacking Nicolas' cerebellum, an innocent bystander caught in the "cross fire" between his bodies immune system and the tumor which it was trying to destroy. The symtoms of OMS are frightening. Nicolas was growing and developing normally and meeting all of his milestones and then suddenly began to shake uncontrollably and was experiencing severe muscle jerks and rapid involuntary eye movement. This soon lead to his inability to walk due to his unsteady gait, effected his speech and swallowing, use of motor skills, sit or even hold his head up and caused issues with vision. As a result of the attack on his cerebellum permanent brain damage has occured. Sadly, there is no cure for OMS! Several treatements including chemotherapy, high dose steroids, IV infusions of immunoglobulins (IVIG), are used in an attempt to induce a neurological remission. Unfortunately, relapses are common and the immune system can be activated if the child comes down with a cold or fever. The attack on the brain continues with every relapse.

To further our awareness of OMS please join us for a walk (One More Step for Nicolas) on July 30th, 2017 from 10am-3pm at Hauppauge High School, Hauppauge, NY 11788.
Thank you in advance for your donation and support with finding a cure for OMS.
View More

One More Step for Nicolas
Top Donors
Nick & Diana Lorusso
Keith & Joanne Williams
DEBRA BOYLE
Rob and Kim Musial
Anonymous