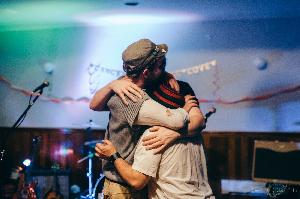 6th Annual Cancer Can't Kill Love Benefit Concert
By 22, I'd lost both of my parents to cancer.
No more than one month after my mother, Joanne, lost a brief battle with Leukemia, friends gathered from near and far to celebrate her life - and the life of my father, Butch, who succumbed in 2008 to lung cancer brought on by his work at Ground Zero - while simultaneously raising money to get me back on my feet.
And so, the first ever Cancer Can't Kill Love Benefit Concert was born. Named after a sermon spoken at my mother's funeral and thrown together by a few close friends in the back of a Bay Ridge bar on NFL Sunday, the November, 2013 fundraiser served as a platform for local bands to share the stage and supporters to make a toast, all with one common goal: to tell cancer to take a hike. There, we raised just over $1,000 - half of which went to the Leukemia & Lymphoma Society in my mother's name and memory.
One year later, we raised the stakes.
The Second Annual Cancer Can't Kill Love Benefit Concert saw over $6,000 for Stand Up To Cancer while the third blew our expectations out of the water and brought in an incredible $13,000 for Memorial Sloan Kettering Cancer Center -- the very hospital my father called home for most of his treatment. The fourth did the same, racking up another (totally casual) $13,000.
Volume five garnered an additional $14,000 and change for MSKCC. That, together with $1,020 raised pre-event for the Lustgarten Pancreatic Cancer Research Foundation via our first successful Booster campaign, brought us above our goal of $15,000. A new record.
That brings our grand total to-date to close to $50,000 towards cancer research -- and we're only getting started. In 2018, Cancer Can't Kill Love will go global with at least eight sister events in places like California, London and Tokyo via a new initiative, #CancerGrowsLove, started by our 2017 Family of the Year: The Kaahaainas.
The Sixth Annual Cancer Can't Kill Love Benefit Concert will take place on Saturday, October 13 (Butchie's birthday!!!) from 2 p.m. to midnight at The Gjoa Club (850 62nd Street, off the N line in Brooklyn). Suggested donation at the door. 100 percent of event proceeds to benefit MSKCC.
More info and full lineup @ www.cancercantkilllove.com.
View More

Meaghan McGoldrick
$18,595

6th Annual Cancer Can't Kill Love Benefit Concert
Event Honor Roll
Cancer Can't Kill Love Coffee House
Jess Friscia & Albert Watkins
Top Donors
Event Donations
Cancer Can't Kill Love Coffee House
CustomInk T-Shirt Sales
CCKL6 Venmo
Kristin Spain