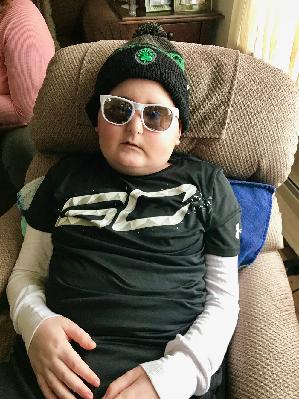 Team Todd Foundation
According to The National Cancer Institute, Brain Cancer is the #1 disease killer of children in the United States. Nearly 16,000 children and adolescents are diagnosed each year with approximately 1,000 of those being Glioblastoma Brain Cancer. And yet, less than 4 percent of all funding at the National Cancer Institute goes to research into childhood cancers. Funds raised through The Team Todd Foundation will go directly to the Pediatric Oncology Team at Memorial Sloan Kettering Cancer Center in NYC to help fund research to find a cure for pediatric glioblastoma brain cancer.

Many of the most important breakthroughs in cancer research and treatment have been brought to light at Memorial Sloan Kettering, and none of that progress would have been possible without support from people like you and me. Donate today via Memorial Sloan Kettering! One of the world's premier institutions dedicated to the treatment and study of cancer, Memorial Sloan Kettering Cancer Center is committed to exceptional patient care, leading-edge research, and superb educational programs. By bringing physicians and scientists together, we provide patients with the best care available today while working to discover more effective ways to prevent, control, and ultimately cure cancer in the future.

In fact, much of the most promising new research can't even begin without donations from individuals: in most cases, government funds become possible only after our support funds the early work that demonstrates real potential. ​ We appreciate your donation and support in our efforts. Together we can beat glioblastoma brain cancer.
By clicking the orange 'Donate Now' above, your generous contributions will be directly supporting the Team Todd Glioblastoma Fund at MSKCC's Department of Pediatric Oncology.
Kind Regards,
Team Todd Foundation
View More

Jeffrey Rosbash
$500

Event Honor Roll
Richard and Gail Ginsberg
Jennifer and Andrew Schwartz
Sandee and Stephen London
Anthony Westreich & Tanya Zuckerbrot
Morris & Jules Family Foundation
elie and deborah mendelsohn
Michael and Terri Josephs
ellen and martin rosenman
Uncle Adam and Aunt Nicole
The NMS Special Education Department
Susan, Colin, Zach & Spencer Gerson
Juliette & Andrew Grossman
DeeDee and Richard Berkowitz
Carol and Marvin Schwartzbard
In memory of Bruce Schifrin - Judi & Andy Marcus
Amy Albert & Deborah Kirkwood
Lauren and Jordan Freundlich
Top Donors
aunt judie
Anonymous
Linda and Mitch Singer
Jackie and Jimmy Rosbash
Gardy and Poppy