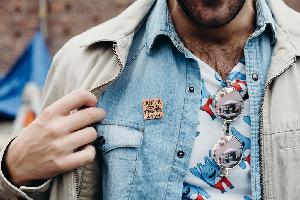 7th Annual Cancer Can't Kill Love Benefit Concert
By 22, I'd lost both of my parents to cancer.
No more than one month after my mother, Joanne, lost a brief battle with Leukemia, friends gathered from near and far to celebrate her life - and the life of my father, Butch, who succumbed in 2008 to lung cancer brought on by his work at Ground Zero - while simultaneously raising money to get me back on my feet.
And so, the first ever Cancer Can't Kill Love Benefit Concert was born. Named after a sermon spoken at my mother's funeral and thrown together by a few close friends in the back of a Bay Ridge bar on NFL Sunday, the November 2013 fundraiser served as a platform for local bands to share the stage and supporters to make a toast, all with one common goal: to tell cancer to take a hike. There, we raised just over $1,000 - half of which went to the Leukemia & Lymphoma Society in my mother's name and memory.
We've been raising the stakes ever since.
Since its inception, Cancer Can't Kill Love has raised close to $75,000 for such organizations as LLS, Stand Up to Cancer, the Lustgarten Foundation for Pancreatic Cancer Research, the Dear Jack Foundation and Memorial Sloan Kettering Cancer Center.
Since CCKL3, we have fundraised primarily for MSKCC - the very hospital my father called home for the bulk of his treatment. We have also partnered since 2016 with Be The Match, the global leader in bone marrow transplantation, who we now have on-site at each event to help register attendees as bone marrow/platelet donors for patients in need. In our first year joining forces with the program, our event helped make a match - one of our very own team members - who has since helped in one stranger's fight against leukemia.
And we're only getting started. In 2018, Cancer Can't Kill Love went global at sister events across the globe via a new initiative, #CancerGrowsLove, started by our 2017 Family of the Year: The Kaahaainas.
What began as a way to memorialize my parents has since grown to be so much more. It is bigger than my parents. It is bigger than one's battle, or one's connection to the disease. It is a movement, and it is one that a bunch of Brooklyn 20-somethings work all year long to bring to life.
Cancer Can't Kill Love 7 will take place on Saturday, September 21 from 2 p.m. to midnight at The Gjoa Club (850 62nd Street, off the N line in Brooklyn). Suggested donation at the door to benefit MSKCC.
More info @ www.cancercantkilllove.com. Full lineup still to come.
View More

Meaghan McGoldrick
$258

7th Annual Cancer Can't Kill Love Benefit Concert
Event Honor Roll
BNI: Morning Money Makers
Top Donors
Rockaway Bar Crawl
Customink Fundraising
BNI: Morning Money Makers
Custom Ink Fundraising
Open Mic Night Gifts